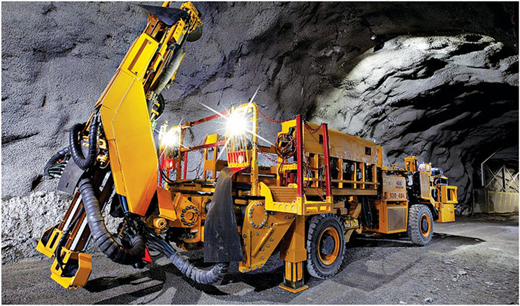 Newsletter – 21.08.2023









*|MC_PREVIEW_TEXT|*









21/8/23 WEEKLY NEWSLETTER







HEADLINES
Saudi Arabia's $2.6 billion mining deal reshapes global decarbonization landscape
Saudi issues 71 new mining permits
BHP, Codelco, Freeport vie for title of biggest copper producer
Solar money in China drives world renewable investment to record
Momentum builds for Piedmont Lithium's ambitious production plans as portfolio expands in Africa
Chromium may start replacing noble metals in cell phone screens
Death toll from fire at ArcelorMittal mine in Kazakhstan rises to four
Chaarat Gold sells Kapan mine in Armenia for $54.5 million
Saudi Arabia's $2.6 billion mining deal reshapes global decarbonization landscape
Kingdom's mineral wealth estimated at $1.3 to $1.5 trillion in value
Saudi Arabia aims to attract nearly $200 billion in investments in mining by 2030
RIYADH: At the end of July, a $2.6 billion deal with Brazil's biggest miner, Vale SA, gave Saudi Arabia a 10 percent interest in mines from Canada to Indonesia that produce copper, nickel and other industrial metals — all critical materials needed to help the world decarbonize.
The deal set the stage for a landmark shift in the metal and mining investment landscape and positions the Kingdom as a pivotal global player.
Deals like the one with Vale SA are being staged at a time when governments across the world are questioning who controls the commodities needed to hit decarbonization targets and sustain the world's economy during intense climate change and volatile markets.
Another factor is China, which has long been the world's dominant mining country based on mineral production value, reporting over $217 billion in metallic mineral and coal production value, according to Statistica. Yet as geopolitical factors shift, the mining industry is also looking to other players.
"Mining is going to be the third most important industry in the Kingdom," Saudi businessman Amr Khashoggi, who has been manufacturing gypsum for over 42 years, told Arab News.
"There is a critical shortage of minerals that the world needs," he adds. "They go into phones, weaponry, electric cars and many different things.
https://www.arabnews.com/node/2358006/business-economy
Saudi issues 71 new mining permits
Saudi Arabia issued 71 new mining permits in July within an intensified drive to attract capital to its lucrative mineral industry, according to official figures.
The new permits brought the total number of mining licenses issued by the Industry and Mineral Resources Ministry to 2,348 since the world's dominant oil exporter began enforcing a new mining investment law four years ago.
Ministry data showed the latest licenses included 45 for exploration, 21 for building material manufacturing, and five for metal ore.
The capital Riyadh has emerged the largest location for licensed mining sites over the past four years, with 610 permits, the report showed.
It was followed by the Western Makkah city with 384 licenses, the Eastern region with 380 and the Western Medina province with 265 permits.
The new law endorsed by the Saudi cabinet is part of 'Vision 2030' economic diversification plan and is designed to attract capital to tap the Gulf kingdom's minerals sector, with an estimated value of nearly 5 trillion Saudi riyals ($1.33 trillion).
https://www.zawya.com/en/projects/mining/saudi-issues-71-new-mining-permits-nnre3zvw
BHP, Codelco, Freeport vie for title of biggest copper producer
There's a three-way battle underway for the title of the world's biggest copper producer.
After buying Australia's OZ Minerals Ltd., BHP Group is challenging for the mantle at a time when hitherto leader Codelco has seen output slide as it battles to overhaul aging operations in Chile. In fact, the Melbourne-based firm produced more than Codelco last quarter.
"The risk is if Codelco doesn't pick up production in 2024 and BHP does, then they could overtake the mighty Codelco" in annual terms, said Bloomberg Intelligence analyst Grant Sporre.
Freeport-McMoRan Inc. briefly moved into first spot last year as it ramped up underground mining in Indonesia, although the US firm has seen its share of output fall after handing over half that asset as a condition for signing a new contract. Sporre has Freeport in third in the years ahead, with Codelco just staving off BHP for the crown.
In a presentation Friday, Codelco's outgoing CEO Andre Sougarret delivered a trajectory that more or less matched Sporre's forecasts (see chart below). Still, Codelco has been missing targets for years amid project delays that expose it to even lower quality ore.
https://www.mining.com/web/bhp-codelco-freeport-vie-for-title-of-biggest-copper-producer/
Solar money in China drives world renewable investment to record
The world is spending more money than ever in renewable energy, most of it on solar power in China, according to a report from BloombergNEF.
China accounted for about half of a record $358 billion global investment in renewable energy in the first half of this year, thanks to cheaper modules, a robust rooftop PV market and the commissioning of energy megabase projects, according to the report. The US was a distant second.
Still, US investments in solar soared 75% from the first half of 2022 to $25.5 billion as supply chain constraints eased and clarity grew around the landmark Inflation Reduction Act, according to analysts, including Meredith Annex. The growth in solar outshone struggling wind investments, particularly for onshore projects.
The US was the top market for venture capital and private equity investments in renewables with a record $3.3 billion.
https://www.mining.com/web/solar-money-in-china-drives-world-renewable-investment-to-record/
Momentum builds for Piedmont Lithium's ambitious production plans as portfolio expands in Africa
Mining Lithium at NAL in Quebec, operated by Sayona, Piedmont has a 25% stake.
Piedmont Lithium (Nasdaq: PLL; ASX: PLL) this week acquired a 22.5% stake in Atlantic Lithium's (ASX: A11) flagship Ewoyaa project in Ghana after committing $17 million to fund the project through its definitive feasibility study, adding an Africa asset to its expanding portfolio of operations.
It completed the second stage of the investment agreement signed in 2021. Under the deal, Piedmont can earn a 50% equity interest in Atlantic's Ghanaian lithium portfolio, headlined by the Ewoyaa project. The first stage involved a $15 million investment into Atlantic, previously IronRidge Resources.
The Australian company, since redomiciled to the US, aims to become one of the world's lowest cost producers of lithium hydroxide, and says it is the most strategically located to serve the fast-growing North American electric vehicle supply chain, with operations already established in the US and Canada.
Piedmont took centre stage in the junior lithium space in 2020, when its stock surged almost 84% in a day's trading in Sydney after it confirmed it had signed a sales agreement with Tesla to supply the electric vehicle maker with high-purity lithium ore mineral for up to ten years.
https://www.mining.com/momentum-builds-for-piedmont-lithiums-ambitious-production-plans-as-portfolio-expands-in-africa/
Chromium may start replacing noble metals in cell phone screens
Researchers at the University of Basel have developed chromium compounds that can replace the noble metals osmium and ruthenium—two elements that are almost as rare as gold or platinum—in luminescent materials and catalysts.
In a paper in the journal Nature Chemistry, the team reports that the luminescent properties of the new chromium materials are nearly as good as some of the osmium compounds used so far. Relative to osmium, however, chromium is about 20,000 times more abundant in the earth's crust—and much cheaper.
The new materials are also proving to be efficient catalysts for photochemical reactions, including processes that are triggered by exposure to light.
If the new chromium compounds are irradiated with a red lamp, the energy from the light can be stored in molecules which can then serve as a power source.
"Here, there's also the potential to use our new materials in artificial photosynthesis to produce solar fuels," lead researcher Oliver Wenger said in a media statement.
https://www.mining.com/chromium-may-start-replacing-noble-metals-in-cell-phone-screens/
Death toll from fire at ArcelorMittal mine in Kazakhstan rises to four
The death toll from a fire at an ArcelorMittal coal mine in Kazakhstan rose to four after the body of another worker was found, the group's local mining unit ArcelorMittal Temirtau said on Saturday.
The fire broke out at the mine in Kazakhstan's Karaganda region on Thursday. One miner is still missing.
Kazakhstan's authorities have started an investigation into the incident but have not yet given any information on the cause of the fire.
ArcelorMittal Temirtau owns 15 coal and iron ore mines in Kazakhstan and an integrated steel plant.
https://www.mining.com/web/death-toll-from-fire-at-arcelormittal-mine-in-kazakhstan-rises-to-four/
Chaarat Gold sells Kapan mine in Armenia for $54.5 million
Chaarat Gold Holdings (LON: CGH) is selling its only operating mine, Kapan, for $54.5 million to Armenian miner Gold Mining Company.
The miner, which once tried buying Centerra's Kumtor mine in the Kyrgyz Republic, said the deal represented a beneficial exit opportunity at a time when Kapan is facing higher costs, potential losses and further funding requirements.
The proposed sale, chief executive Mike Fraser said, will allow Chaarat to focus on developing lower cost and higher value options within its portfolio, particularly the Tulkubash open pit project in the Kyrgyz Republic.
The transaction will improve Chaarat's balance sheet by reducing its short and long-term liabilities by $39 million, and the reception of $5 million in cash.
Once the sale is closed, Chaarat will own two Kyrgyzstan-based gold development assets – Tulkubash and Kyzyltash – that have the potential to produce more than 350,000 ounces of gold per year.
The buyer operates the Lichkvaz mine in Armenia, which has supplied third-party ore to the Kapan processing plant for years.
https://www.mining.com/chaarat-gold-sells-kapan-mine-in-armenia-for-54-5-million/