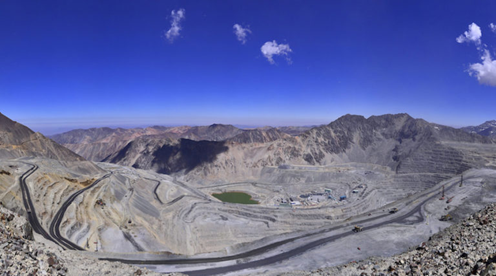 Newsletter – 29.08.2023

29/8/23 WEEKLY NEWSLETTER

HEADLINES
Zijin mulling multi-billion dollar expansion of Serbian copper mine

New feasibility study expands resource, mine life for Vulcan Minerals' Great Atlantic salt project

Chile launches probe into deadly mining accidents at Anglo American, Minera ACF

Royal Road and MSB set up Saudi mineral exploration JV

Ma'aden awards construction contract for key Saudi mining project

Stellantis agrees geothermal lithium supply deal with CTR

Congo Wants ERG Copper, Cobalt Assets in Bid to Regain Control

Lucara announces recovery of 692 carat diamond from Karowe
Zijin mulling multi-billion dollar expansion of Serbian copper mine
China's Zijin Mining Group is said to be planning an expansion of its Cukaru Peki copper and gold mine in eastern Serbia, as demand for the metal is expected to surpass supply.
According to consulting firm McKinsey, the world's transition to a greener economy will boost annual copper demand to 36.6 million tonnes by 2031. Supply is forecast to hit around 30.1Mt by the same year (from the current 22Mt), creating a 6.5Mt deficit at the start of the next decade.
Zijin, which opened the Cukaru Peki about two years ago, is now studying the possibility of drilling almost 2 km (1.25 miles) further down the pit.
"These are vast reserves, which require additional infrastructure, additional investment of around $3.5 billion to $3.8 billion," Branko Rakocevic, the top Serbian official at the mine, told Bloomberg News.
Zijin, China's largest gold miner and one of the country's top copper producers, invested close to $678 million to bring Cukaru Peki into operations.
The asset, located in the eastern Bor region, is divided into an upper and a lower zone. Production at the upper zone reached 111,000 tonnes of copper and 152,000 ounces of gold last year and it is projected to produce 91,400 tonnes of copper and 2.5 tonnes of gold annually, with potential peak outputs of 135,000 tonnes of copper and 6.1 tonnes of gold.
https://www.mining.com/zijin-mulling-multi-billion-expansion-of-serbian-copper-mine/

New feasibility study expands resource, mine life for Vulcan Minerals' Great Atlantic salt project
Vulcan Minerals (TSXV: VUL) affiliated company Atlas Salt released the findings of a comprehensive feasibility study and an updated mineral resource estimate conducted by SLR Consulting (Canada) on the Great Atlantic salt project situated in western Newfoundland.
The company says the study represents a significant leap in economic viability compared to the preliminary economic assessment dated Jan. 31, 2023, including an annual production of 2.5 million tonnes salt (NaCl) over a 34-year mine life and a post-tax net present value (NPV) at an 8% discount rate reaching C$600 million and an internal rate of return (IRR) of 19%.
SLR Consulting also introduced an expansion case featuring a salt production scale of 4.0 million tonnes per year across a 47.5-year mine life and reported an NPV at 8% amounting to C$2.015 billion (pre-tax) and a pre-tax IRR of 28%.
The feasibility study includes the enlargement of indicated mineral resources and mineral reserves:
Indicated mineral resources of 383 million tonnes NaCl at 96.0%.

Inferred mineral resources of 868 million tonnes at 95.2% NaCl.

Probable mineral reserves of 88.1 million tonnes at 96.0% NaCl.
Patrick Laracy, president of Vulcan Minerals, said, "This independent feasibility study of the Great Atlantic salt project confirms its substantial value and positive economic attributes as a tier one asset."
A new feasibility study gives the Vulcan Minerals' Great Atlantic salt project a potential 47.5-year life of mine.
https://www.mining.com/new-feasibility-study-expands-resource-mine-life-for-vulcan-minerals-great-atlantic-salt-project/

Chile launches probe into deadly mining accidents at Anglo American, Minera ACF
Los Bronces copper mine in Chile.
Chile's government has sent officials to investigate accidents at two mines in the South American country's metropolitan and Tarapaca regions that killed three workers, it said on Sunday.
Newly appointed mining minister Aurora Williams is closely monitoring the inspections, her ministry said in a statement.
The country's mining and geology service over the weekend announced the deaths – all on Saturday – of two workers at Anglo American's Los Bronces copper mine some 40 miles (64 km) from the capital, Santiago, and one at Minera ACF, which produces iodine and nitrate in the northern Tarapaca region.
In a statement on Sunday, Anglo American said the workers were contractors with tech engineering firm NETaxion, adding they had informed the relevant authorities and launched "a thorough investigation to determine the causes of the accident."
https://www.mining.com/web/chile-launches-probe-into-deadly-mining-accidents-at-anglo-american-minera-acf/

Royal Road and MSB set up Saudi mineral exploration JV
The new JV aims to explore copper, gold and other metals in Saudi Arabia and other geographical areas.
RRA intends to explore and acquire certain copper assets in Morocco
Royal Road Minerals and MSB have established a 50:50 Saudi Arabian joint venture (JV), Royal Roads Arabia LLC (RRA).
The new JV aims to explore copper, gold and other metals in an area of interest comprising the Kingdom of Saudi Arabia (KSA) and other geographical areas.
Royal Road and MSB will have an equal number of directors appointed by them to RRA's board.
RRA's business will be carried out in accordance with the provisions of a JV shareholder agreement signed between the parties in June 2023.
Currently generating and evaluating copper and gold target areas in KSA, RRA plans to submit exploration licence applications over newly identified areas of significant interest.
Royal Road president and CEO Dr Tim Coughlin said: "We are very pleased that now, with the incorporation of Royal Roads Arabia, we are in a position to secure some of the exciting copper and gold opportunities we have been generating and assessing in KSA, and to expand our valuable partnership to other supportive and prospective jurisdictions elsewhere."
Earlier this month, RRA signed a non-binding letter of intent to explore and acquire certain copper assets in Morocco.
https://www.mining-technology.com/news/royal-msb-saudi-jv/

Ma'aden awards construction contract for key Saudi mining project
MGBM is looking at a production capacity of 250,000 ounces of gold annually over an estimated life of 12 years
Saudi Arabian Mining Company (Ma'aden) has awarded a key construction contract worth SR105 million ($28 million) to Darkstone, a specialist in industrial mechanical and electrical maintenance, construction and MEP works, for the second phase of Mansourah-Massarah Gold Project in the kingdom.
An open-pit mine located in the Central Arabian gold region of Saudi Arabia, approximately 500km southeast of Riyadh, the project was initiated by Ma'aden Gold and Base Metals Company (MGBM), the largest mining company in Saudi Arabia.
MGBM is looking at a production capacity of 250,000 ounces of gold annually over an estimated life of 12 years.
​In August, it had awarded the procurement and construction contract for the second stage of the project to Darkstone Arabia company and the Engineering assigned to ATC Williams to aid in designing the tailings and water management system.
​ATC Williams is a leader in providing solutions for tailings, water, and waste, in our fourth decade of operations.
https://www.zawya.com/en/projects/mining/maaden-awards-construction-contract-for-key-saudi-mining-project-v90iskrz

Stellantis agrees geothermal lithium supply deal with CTR
The lithium will be produced from a subterranean reservoir at CTR's Hell's Kitchen project in California.
Entrance façade of the Stellantis plant in Mirafiori, Turin, Italy
French auto-manufacturer Stellantis has announced that it will invest more than $100m (€91.81m) into US lithium and sustainable energy company Controlled Thermal Resources (CTR).
The investment will be used to develop CTR's Hell's Kitchen project in Imperial County, California. At 300,000 tonnes per annum (tpa), Hell's Kitchen is the world's largest geothermal lithium project.
As part of the deal, Stellantis will see an initial 65,000tpa of battery grade lithium hydroxide monohydrate from Hell's Kitchen, an increase of more than double the initial 25,000tpa agreement signed in 2022.
Hell's Kitchen will dredge high-temperature lithium brine up from 8,000ft below the surface of the Earth. Lithium will be extracted from the brine before it is pumped back down to the subterranean reservoir.
The process itself will be powered by renewable energy, with on-site wind farms' steam power utilised to extract the brine from the Earth. As it is a fully integrated process, time-consuming lithium brine ponds are not necessary for extraction.
https://www.mining-technology.com/news/stellantis-ctr-lithium-brine/

Congo Wants ERG Copper, Cobalt Assets in Bid to Regain Control
Gecamines offered to buy some of ERG's copper, cobalt assets

June offer didn't include Frontier mine or Metalkol tailings
The Democratic Republic of Congo wants to buy back some of the country's prized copper and cobalt deposits, as the government tries to gain more control of crucial green metals.
The assets are some of those owned by Eurasian Resources Group, a Kazakh-backed miner and major cobalt producer with dozens of DRC mining and exploration permits. The government and state-owned miner Gecamines say ERG has been too slow to develop them — and Gecamines in June told ERG it wants to take some over, according to a July letter seen by Bloomberg that was sent by the office of Congolese President Felix Tshisekedi to ERG's shareholders.
https://www.bloomberg.com/news/articles/2023-08-24/congo-wants-erg-copper-cobalt-assets-in-bid-to-regain-control?leadSource=uverify%20wall

Lucara announces recovery of 692 carat diamond from Karowe
Lucara Diamond Corp. has announced the recovery of a 692.3 carat diamond from its Karowe Diamond Mine located in Botswana.
The diamond, measuring 46.5 x 40.7 x 28.4 mm is described as a Type IIa high white gem, recovered in the MDR XRT unit at Karowe from direct milling of ore sourced from the EM/PK(S) unit of the South Lobe. The 692.3 carat diamond represents the fourth +300 carat diamond recovered year to date, and shortly follows on the recovery of the 1080 carat Type IIa white top gem earlier in August.
William Lamb, CEO, comments:
"The successful track record of delivering some of the World's largest diamonds continues with the recent recovery of a 692.3 carat diamond. This stone is the 20th diamond larger than 100 carats recovered, during 2023, at Karowe. The recovery of large diamonds from the EM/PK(S) lithology of the South Lobe strongly supports our expectations for the underground project where the majority of material mined will constitute this phase of kimberlite during the first years of underground production."
https://www.globalminingreview.com/mining/24082023/lucara-announces-recovery-of-692-carat-diamond-from-karowe/