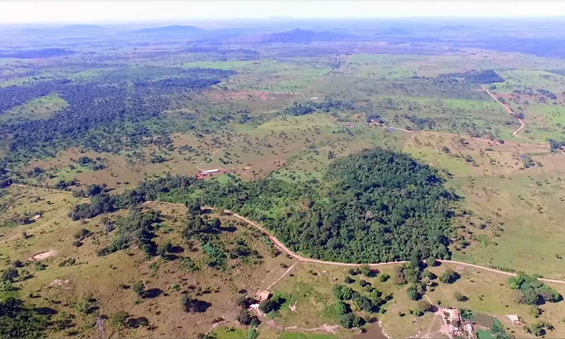 Newsletter – 04.09.2023

HEADLINES
Taliban Sign Multibillion-Dollar Afghan Mining Deals

World's biggest miner reviews newly acquired Brazilian assets

Saudi Arabia, Türkiye Sign Understanding for Cooperation in Mining

Saudi's SABIC to sell steel unit Hadeed to PIF for $3.3bn

Nigeria to set up solid minerals corporation to attract investment

Congo mining convoy ambush kills two Chinese, one Ghanaian, and Congolese soldier

Copper crime ring is latest scandal to rock the metals world

It's getting harder to find mining engineers a green world needs
Taliban Sign Multibillion-Dollar Afghan Mining Deals
ISLAMABAD — Afghanistan's Taliban announced Thursday they have signed more than $6.5 billion worth of mining contracts with local and foreign companies from China, Iran, Turkey and Britain.
Shahabuddin Dilawar, the Taliban minister of mines and petroleum, said the seven contracts cover the extraction and processing of gold, copper, iron, lead and zinc in four Afghan provinces — Takhar, Ghor, Herat and Logar.
The nationally televised signing ceremony occurred as the de facto Afghan authorities marked the second anniversary of the withdrawal of all U.S.-led NATO troops from the country after nearly 20 years of war with the then-insurgent Taliban.
Dilawar said the seven contracts signed Thursday "will collectively bring a $6.557 billion investment" and create thousands of jobs in Afghanistan.
The minister said that an agreement awarded to a Chinese company for gold extraction in Takhar would bring the Taliban government a 65% share of the earnings over five years.
Dilawar said other contracts involving Turkish, Iranian and British investments for mining and processing iron ore in Herat would earn the government a 13% share over 30 years. "It will eventually turn Afghanistan into an exporter of iron," he said.
Skeptics question the viability of the contracts, citing international economic sanctions imposed on the country after the Taliban reclaimed power in August 2021.
https://www.voanews.com/a/taliban-sign-multibillion-dollar-afghan-mining-deals/7249135.html

World's biggest miner reviews newly acquired Brazilian assets
BHP Group Ltd. is undertaking a strategic review of the Brazilian copper and gold assets it acquired with the takeover Oz Minerals Ltd., as the No. 1 miner pivots toward minerals key to the green-energy transition.
The $6.4 billion purchase of Oz Minerals included an untapped gold deposit and four small, but high-grade, copper-gold mines in the state of Para. BHP has said so-called "future-facing" metals, which also include nickel and fertilizer ingredient potash, are central to its growth as iron ore use plateaus and the world moves away from fossil fuels.
It will take 12 to 18 month from May, when the transaction closed, to complete the strategic assessment, Carla Wilson, the miner's Brazil's country manager, told Bloomberg in an interview.
"It's about understanding the resources and the opportunities. We haven't operated before in Brazil," she said. "But it's clearly a region of future facing commodities, which BHP is very focused on: copper, nickel."
BHP's largest deal in over a decade was focused on creating a copper hub in South Australia, while consolidating the company's position as one of the world's largest producers of the metal. Copper consumption is projected to surge in electric vehicles and renewable energy. In Brazil, only Oz Minerals' Pedra Branca mine is operational.
Until the acquisition, BHP's presence in Brazil was confined to Samarco, an independent iron ore venture with Vale. The company still faces the consequences of a 2015 deadly dam collapse, including a lawsuit in the UK and the renegotiation of a compensation settlement with Brazilian authorities, both potentially involving billions of dollars.
Samarco just got approval for its judicial recovery plan, in a years-long debt restructuring triggered by the disaster. Wilson said BHP is focused in repairing the damage caused and getting output back to full capacity by 2028. Samarco's iron ore pellets command a premium as they are used to produce low-carbon steel.
https://www.mining.com/web/worlds-biggest-miner-reviews-newly-acquired-brazilian-assets/

Saudi Arabia, Türkiye Sign Understanding for Cooperation in Mining
Saudi Arabia and Türkiye signed on Monday a memorandum of understanding for cooperation in the field of mining.
The agreement was signed during a meeting between Bandar AlKhorayef, Saudi Minister of Industry and Mineral Resources, and Alparslan Bayraktar, Turkish Minister of Energy and Natural Resources, in Ankara.
In remarks following the meeting, Bayraktar said discussions touched on mutual investments in energy. He noted that the MoU paves the way for bilateral cooperation in the field of mining and the vital minerals needed in areas such as the manufacture of electric cars and solar panels.
AlKhorayef had kicked off an official visit to Türkiye on Monday with the aim of boosting cooperation opportunities in the industrial and mining sectors.
Last month, Bayraktar expressed his country's desire to enhance cooperation with Saudi Arabia in the field of energy, pointing to the interest of Saudi Arabia and other Gulf countries to invest in renewable energy in Türkiye.
"Our country has a huge capacity in this field, as it ranks 12th in the world and fifth in Europe," he stated.
According to data from the Saudi Ministry of Industry and Mineral Resources, the value of non-oil exports to Türkiye amounted to about SAR13.5 billion, while the value of imports reached SAR2.9 billion, in addition to financing export credit insurance worth $26 million from the Saudi Export-Import Bank.
https://english.aawsat.com/business/4514266-saudi-arabia-t%C3%BCrkiye-sign-understanding-cooperation-mining

Saudi's SABIC to sell steel unit Hadeed to PIF for $3.3bn
Saudi Basic Industries Corp said on Sunday it had agreed to sell subsidiary Saudi Iron and Steel Company (Hadeed) to the Public Investment Fund (PIF) for an enterprise value of 12.5 billion riyals ($3.33 billion).
Molten iron for steelmaking
The transaction is expected to close before the end of the first quarter of 2024, and proceeds from the sale will be used to support SABIC's growth in the chemicals industry, according to a company statement to the stock exchange.
The final sale price will be disclosed closer to the completion date.
SABIC, one of the world's biggest petrochemical companies, reported a massive slump in its second-quarter net profit on lower average sales prices and weaker demand. It said it wants to focus on core businesses as the rationale for the divestment.
The fair valuation of Hadeed's net assets is expected to result in a non-cash loss of between 2 to 2.5 billion riyals in Q3 earnings, SABIC said.
As a top manufacturer of steel products, Hadeed has been a big player in the construction of Saudi Arabia's large infrastructure projects, which are key to its economic transformation plan known as Vision 2030, which the PIF, the kingdom's wealth fund, is spearheading.
Separately on Sunday, it was announced the PIF had sold its 10.9% stake in National Gas and Industrialization Company through a private share sale for 491.2 million riyals ($130.96 million).
https://www.mining.com/web/saudis-sabic-to-sell-steel-unit-hadeed-to-pif-for-3-3-bln-statement/

Nigeria to set up solid minerals corporation to attract investment
Nigeria plans to set up the Nigerian Solid Minerals Corporation, a state-backed company to help attract investments into the extraction of gold, coal, iron-ore, bitumen, lead, limestone and baryte, a minister said on Sunday.
"The proposed corporation will seek and secure partnership investment agreements with big multinational companies worldwide to leverage on the attractive investment-friendly regime operating in the country to secure massive foreign direct investment for the mining sector," Solid Minerals Minister Dele Alake said in a statement.
Nigeria wants mining to play a much bigger role in its economy by expanding its mineral extraction sector to diversify away from an overreliance on oil exploration.
Alake did not give a timeframe for when the new company would be set up. Existing enterprises – the National Iron-Ore Company and the Bitumen Concessioning Programme – will be reviewed to fit into the new company while a mines police force will be active from October to detect illegal mining, he said.
https://www.mining.com/web/nigeria-to-set-up-solid-minerals-corporation-to-attract-investment/

Congo mining convoy ambush kills two Chinese, one Ghanaian, and Congolese soldier
Four people including two Chinese nationals and a Ghanaian citizen were killed on Friday in an ambush on a Congolese mining company convoy in eastern Democratic Republic of Congo, a regional administrator said on Sunday.
It was not immediately clear who carried out the attack on the four vehicles as they left the TSM company's mine site in Fizi, South Kivu province.
"The reason for this incident is thought to be the suspicion that the delegation had a parcel of gold," said local administrator Sammy Badibanga Kalonji by phone.
He said the fourth victim was a Congolese soldier, while a further three people were seriously wounded.
It was not immediately possible to reach TSM for comment.
Eastern Congo is rich in minerals, but it is a challenging place to mine due to decades of insecurity fueled by various militias fighting to control land and natural resources.
https://www.mining.com/web/congo-mining-convoy-ambush-kills-two-chinese-one-ghanaian-and-congolese-soldier/

Copper crime ring is latest scandal to rock the metals world
The history of commodity markets is littered with fraud and risk, and the opaque trade in scrap metal is no exception. But even veterans with decades of experience say they've never seen anything like the scam now rocking one of the world's top copper recyclers.
Aurubis AG revealed this week it has uncovered a large-scale fraud involving shipments of scrap metal that it uses to feed its copper smelters, with potential losses running into hundreds of millions of euros. The announcement sent the Hamburg-based company's shares plunging, and delivered a fresh blow to confidence in the global metals industry after a string of high-profile scandals, including the nickel scam that recently ensnared trader Trafigura Group.
As Europe's largest copper producer, Aurubis will play a crucial role in delivering the metals needed for the push into renewable energy and electric vehicles. But just as the Trafigura case raised eyebrows in the trading world by revealing how one of the largest players missed many red flags, Aurubis's revelations will pose tough questions for the company and chief executive Roland Harings about its internal controls and processes.
The company has been hit by two different and possibly connected crimes, one a few months ago involving the theft of precious metals residues, and then the shock revelation this week that it has been paying for scrap material that didn't contain the metal it was supposed to. A spokesperson for Aurubis said it is investigating a sophisticated criminal operation involving both external suppliers and complicit employees at its main smelter in Hamburg.
https://www.mining.com/web/copper-crime-ring-is-latest-scandal-to-rock-the-metals-world/

It's getting harder to find mining engineers a green world needs
Digging up the metals that go into power grids and electric cars is crucial to the energy transition. While the mining industry has plenty of reserves to tap, it faces a worrying shortage of young workers needed to get materials out of the ground.
In regions like Canada and the US, enrollment or graduation from university courses related to mining engineering slipped in recent years. The dilemma adds to the challenges miners face as they scramble to boost output of everything from copper and nickel to cobalt and lithium, just as many nations view supplies as a matter of national security and users rush to secure metal.
Fewer students want to be geologists or engineers, partly due to mining's negative image regarding pollution, human rights and gender equality. That's leaving the industry with an aging workforce and forcing it to recruit from outside the traditional university talent pool, such as through apprenticeship programs and internal training.
"There's been a bit of a lost decade in people going through university in mining courses — that's proving to really come to crunch point now," said Alison Allen, deputy managing director at UK-based mining consultancy Wardell Armstrong. "There are too few graduates filling needs."
The waning interest is clear in some of the world's key mining jurisdictions. At the Colorado School of Mines, total enrollment in mining, geophysical and geological engineering undergraduate degree courses last year was down about 35% from almost a decade ago. In Canada, mining and mineral engineering graduates dropped by a third between 2016 and 2020, according to Statistics Canada data.
It's a similar story at the UK's prestigious Camborne School of Mines, traditionally an important feeder school for the global industry. The number earning degrees from its undergraduate mining engineering course fell in recent years, with new intakes halted in 2020. The school this year announced new programs for mining employees.
UK mining faces a big challenge to meet its needs, according to Rhys Morgan, an engineering and education director at the Royal Academy of Engineering. Some 80% of the 1,250 mining engineers registered with the UK's Engineering Council are over 50, and 40% are at least 60, he said.
https://www.mining.com/web/its-getting-harder-to-find-mining-engineers-a-green-world-needs/