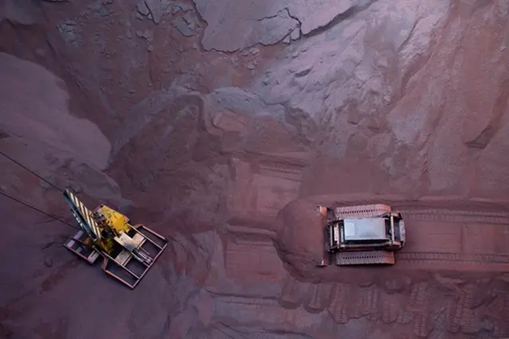 Newsletter – 18.09.2023

18/9/23 WEEKLY NEWSLETTER

HEADLINES
Saudi Arabia aims to boost private investments in mining to $46bln – report

Saudi Ma'aden, KAUST to co-invest in lithium extraction startup

EU moves to cut dependency on China for battery and solar panel materials

Mining metals vital for EVs is 'wrecking lives' in the Democratic Republic of Congo, report finds

Former Yamana Gold head Peter Marrone turns his eye to Africa

NTPC mining arm to explore battery minerals overseas: Report

London-listed Rockfire to buy suspended Dubai gold refinery
Saudi Arabia aims to boost private investments in mining to $46bln – report
Loading of iron ore on a barge at Saldanha Bay, South Africa
Saudi Arabia aims to increase private sector investments in the mining industry to 171 billion Saudi riyals ($45.6 billion) by 2030, the Arabic news website Al Eqtisadiah reported, citing the Ministry of Industry and Mineral Resources.
The kingdom is working to boost the contribution of the mining sector to the nation's GDP to $64 billion by 2030 from the $17 billion currently, the report said.
Saudi Arabia is also targeting investments of more than SAR 120 billion by 2030 in several industries such as iron and aluminum, as well as in chemicals required by electric car batteries, said Al Eqtisadiah.
The ministry estimated the kingdom's minerals resources at over $1.3 trillion. They include phosphate, bauxite in northeast of the kingdom and gold, copper and other rare earth elements in west.
https://www.zawya.com/en/wealth/alternative-investments/saudi-arabia-aims-to-boost-private-investment-in-mining-to-46bln-report-q7yjj2ak

Saudi Ma'aden, KAUST to co-invest in lithium extraction startup
Saudi Arabian Mining Company (Ma'aden) and King Abdullah University of Science and Technology (KAUST) have agreed to co-invest in the latter's startup Lithium Infinity (Lihytech).
The game-changing technology extracts lithium from unconventional resources, including seawater, the Saudi-listed mining major said in a post on social messaging platform X on Thursday.
The technology has the potential to commercialise KAUST research, creating strategic impact and value for the Kingdom.
In January, Ma'aden and KAUST Innovation Ventures Fund announced plans to invest $4 million and $2 million, respectively, into Lihytech.
Lihytech has patented a membrane-based lithium extraction technology developed by Professor Zhiping Lai at KAUST.
Lithium is often called the new "white gold" because its batteries power EVs, smartphones, personal electronic devices and more. However, lithium demand is outstripping supply.
In August 2023, a CNBC news report said the world could face a lithium supply deficit as early as 2025 due to the electrification of transport sector.
https://www.zawya.com/en/projects/mining/saudi-maaden-kaust-to-co-invest-in-lithium-extraction-startup-nyt0s14u

EU moves to cut dependency on China for battery and solar panel materials
Parliament votes to cut mining red tape and diversify its supplies of raw materials such as lithium and silicon
A lithium ion battery pack for an e-Golf electric car at the Volkswagen factory in Dresden, Germany
The EU has voted in a plan to secure more of the critical materials needed to make solar panels, electric car batteries and other key elements of its green transition.
The European parliament agreed on Thursday to diversify its supplies of critical raw materials and cut red tape for mining companies. In an attempt to reduce its dependency on China, it plans to ensure that by 2030 it does not rely on a single country for more than 65% of its supply of any strategic raw material.
The details of the act, which was passed with 515 votes in favour and 34 against, will now be negotiated between the parliament and the council.
https://www.theguardian.com/world/2023/sep/14/eu-diversify-materials-car-battery-solar-panels-vote-parliament

Mining metals vital for EVs is 'wrecking lives' in the Democratic Republic of Congo, report finds
The report from Amnesty International and the DRC-based Initiative for Good Governance and Human Rights details how the search for the minerals has forcibly uprooted people from their homes and farmland.
The mining of minerals critical to electric vehicle batteries and other green technologies in the Democratic Republic of Congo (DRC) has led to human rights abuses, including forced evictions and physical assault, according to a new report from Amnesty International.
DRC is by far the world's largest producer of cobalt, a mineral used to make lithium-ion batteries for electric vehicles and other products. It is also Africa's top producer of copper, which is used in electric vehicles, renewable energy systems and more.
Rights groups have long criticised the trade of DRC's cobalt, copper and other minerals due to abusive labour and the risk of violence in a central African country where militants control swaths of territory.
https://www.euronews.com/green/2023/09/14/mining-metals-vital-for-evs-is-wrecking-lives-in-the-democratic-republic-of-congo-report-f

Former Yamana Gold head Peter Marrone turns his eye to Africa
Peter Marrone, former Yamana Gold Inc. executive chairman, is back at the helm of a Canadian precious-metals producer after putting $30-million of his own money into Africa-focused Allied Gold Corp.
Allied went public earlier this week on the Toronto Stock Exchange after a reverse takeover and a $267-million private placement financing anchored by Mr. Marrone and four other former members of Yamana's management team.
The transaction also saw the Yamana team take the key management and board positions, including installing Mr. Marrone as chief executive officer and chairman, Daniel Racine as president and Jason LeBlanc as chief financial officer.
Yamana, which was founded by Mr. Marrone in the early 2000s, was sold earlier this year to Canada's Agnico Eagle Mines Ltd. and Pan American Silver Corp. for $4.8-billion.
Unlike Yamana's Americas-based operations, Allied's operating mines are located in West Africa, traditionally a far-riskier jurisdiction for mining companies that weighs on valuations.
Toronto-based Iamgold Corp., which operates a large gold mine in Burkina Faso, is diversifying its exposure away from the region in part because of the security risk. B2Gold Corp., which has operations in Mali, similarly recently acquired Nunavut-focused Sabina Gold and Silver Corp. in an attempt to mitigate the operational and geopolitical risk.
https://www.mining.com/web/former-yamana-gold-head-peter-marrone-turns-his-eye-to-africa/

NTPC mining arm to explore battery minerals overseas: Report
Indian power producer NTPC's mining arm will explore overseas sourcing of battery minerals such as lithium, cobalt and nickel, three sources told Reuters on Monday.
The South Asian country, among the world's top greenhouse gas emitters, has been pursuing pacts with other countries to secure key minerals in resource-rich countries such as Australia, Argentina and Chile. India aims to be a net zero emitter of greenhouse gases by 2070.
"We are keen to diversify into critical minerals, specifically lithium, nickel and cobalt," one of the sources in the company said. The sources did not specify which countries India will be talking to, to explore battery minerals sourcing.
The Indian government in July listed identified 30 minerals, including nickel, titanium, vanadium and tungsten as critical to drive its clean energy push.
NTPC Mining will also explore mining uranium in India, the sources said.
https://indianexpress.com/article/business/companies/ntpc-mining-arm-to-explore-battery-minerals-overseas-8944954/

London-listed Rockfire to buy suspended Dubai gold refinery
One of Dubai's biggest gold refineries, suspended in July over concerns that its owners had ties to alleged money launderers, is being acquired by London-listed mining explorer.
Rockfire Resources Plc is buying Dubai-based Emirates Gold DMCC in a reverse takeover under London's Alternative Investment Market rules, it said in a statement Friday. Rockfire, valued at less than £7 million ($8.7 million) before trading was temporarily suspended on AIM, will pay a total of $20 million.
The London-listed company said the deal is conditional on Emirates Gold being restored to the United Arab Emirates's Good Delivery List. The UAE's suspension of the refinery's accreditation has prevented it from delivering bullion into the Dubai market, according to Rockfire.
The owner of the refinery, Paloma Precious Metals DMCC, announced it bought 21.7% of Rockfire in June. As part of the proposed transaction, Rockfire will seek to raise £14.7 million through a share subscription.
The UAE created its Good Delivery list as a standard for top precious metals firms. To maintain that accreditation, refiners must undergo annual audits to ensure they're complying with anti-money laundering and responsible sourcing laws.
The clean-up of the gold sector is part of the UAE's bid to rehabilitate its financial reputation, after being added to a watch-list by a money laundering watchdog last year. The Paris-based Financial Action Taskforce named the UAE's gold industry as a cause for concern before adding the country to its "gray list."
Two of the ultimate beneficial owners of Emirates Gold are relatives of Zimbabwean businessmen Simon Rudland and Howard Baker, Bloomberg reported in July. A documentary by Al Jazeera earlier this year alleged that the two men were involved in money laundering through the UAE's gold sector. It didn't name any specific UAE refiner in connection with them.
https://www.mining.com/web/london-listed-rockfire-to-buy-suspended-dubai-gold-refinery/