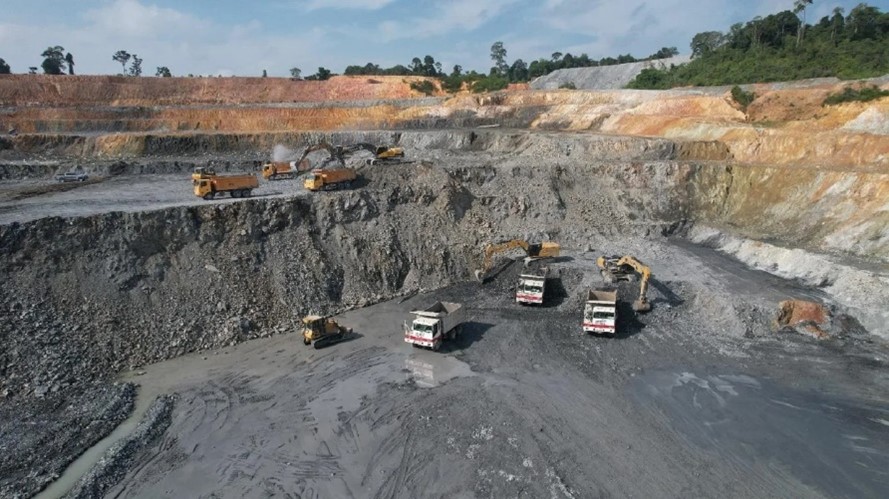 Newsletter – 25.09.2023

25/9/23 WEEKLY NEWSLETTER

HEADLINES
Monument begins production at Malaysia's Selinsing gold mine

Chinese Investors Briefed on Industrial, Mining Investment Opportunities in Saudi Arabia

Czech Government looks towards lithium

Metal-mining pollution impacts 23 million people worldwide

LG Chem with China's Huayou to make battery materials in Indonesia, Morocco

Inside Vietnam's plans to dent China's rare earths dominance

Congo sees expanded UAE mining investment, seeks Inga partners
Monument begins production at Malaysia's Selinsing gold mine
Covering 150km² of area, the Selinsing gold mine is said to have mineral resources of around 880,000oz.
Canada-based exploration company Monument Mining has started commercial operations at its Selinsing gold mine in Pahang, Malaysia, which has operated for 30 consecutive days at 90% of its designed capacity.
With its present capacity, the Malaysian mine has a mine life of six years.
By achieving 90% capacity for 30 days until 16 August, the company claims to have achieved the requirement for commercial production. Mill availability for the period was 94% and flotation mass pull stood at 3.4% compared with the design specification of 3.5%. This equates to around 79 tonnes per day, which is in line with its design protocol.
The company further stated that the flotation gold recovery was inconsistent due to the high clay content of freshly mined transition ore and the processing of stockpiled transition ore mixed with oxides, resulting in poor flotation response. However, daily recoveries were more than 80% but the overall gold recovery was 61.4% for the 30-day period.
Monument Mining president and CEO Cathy Zhai said: "We are very pleased to announce this landmark event at the Selinsing gold mine.
"We thank the Monument Mining team and contractor partners for their dedication and hard work to achieve this commercial production milestone."
https://www.mining-technology.com/news/monument-production-selinsing-mine/

Chinese Investors Briefed on Industrial, Mining Investment Opportunities in Saudi Arabia
The Saudi Minister of Industry and Mineral Resources Bandar Ibrahim Alkhorayef met with Chinese investors in Shanghai, where they discussed investment opportunities available in the Kingdom in mining and industry sectors.
President of the Royal Commission for Jubail and Yanbu Khalid Al-Salem, Vice Minister of Industry and Mineral Resources for Mining Affairs Khalid Al-Mudaifer, and leading officials of the industry and mining sectors attended the meeting, said SPA.
Interlocutors previewed the prominent investment opportunities provided by the Kingdom in the industrial and mining sectors.
The Saudi side highlighted the goals of the National Strategy for Industry and the opportunities provided in various industrial sectors.
The meeting examined the measures, initiatives and incentives provided by the ministry to create an attractive investment environment, remove obstacles for investors, and offer the required facilitations.
The Saudi officials spoke about the goals of the Saudi Vision 2030 in the mining sector and the opportunities it provides for investors worldwide in mineral exploration and investment opportunities.
The Saudi side highlighted the mining investment system in the Kingdom and the goals of the mining strategy.
Alkhorayef made the official visit to the People's Republic of China to strengthen the economic partnership in the industrial and mining sectors.
https://english.aawsat.com/business/4562946-chinese-investors-briefed-industrial-mining-investment-opportunities-saudi-arabia

Czech Government looks towards lithium
Following talks with miners, the prime minister has endorsed projects in Europe's largest lithium deposit.
Czech Prime Minister Petr Fiala said his government is looking to facilitate lithium mining as it is a strategic raw material for the recovery of the Czech economy. The Cínovec area, located 100km northwest of Prague, holds the largest lithium deposit in Europe. Geomet, a Czech company that is part of the energy giant ČEZ, is running the deep mining operation, which is expected to start between 2026 and 2028.
Lithium is a crucial component in producing electric vehicle batteries. As demand for EVs increases, the World Bank projects a 965% rise in lithium production by 2050. Currently, 98% of lithium production occurs in Australia, Latin America and China.
After meeting with local mayors from municipalities, Fiala said they support Lithium mining as they recognise its importance for regional development.
"What they want is for us to set the conditions and rules and the whole project in such a way that it takes into account the interests of residents, citizens and the whole region," Fiala said after the meeting.
Throughout the 20th century, the Cinovec site was used for mining tungsten. However, due to the collapse of communism and lower tin prices, the mine was closed in 1993. Appetites have since been piqued by the large untapped lithium deposits in the area. A study in 2022 concluded potential lithium mining projects in the area have a net present value of $1.98bn.
https://www.mining-technology.com/news/czech-lithium-mining/

Metal-mining pollution impacts 23 million people worldwide
An aerial view of a tailings dam storing waste from a copper-mining operation in Chile
At least 23 million people around the world live on flood-plains contaminated by potentially harmful concentrations of toxic waste from metal-mining activity, according to a study.
UK scientists mapped the world's 22,609 active and 159,735 abandoned metal mines and calculated the extent of pollution from them.
Chemicals can leach from mining operations into soil and waterways.
The researchers say future mines have to be planned "very carefully".
This is particularly critical as the demand surges for metals that will support battery technology and electrification, including lithium and copper, says Prof Mark Macklin from the University of Lincoln, who led the research.
"We've known about this for a long time," he told BBC News. "What's alarming for me is the legacy - [pollution from abandoned mines] is still affecting millions of people."
The findings, published in the journal Science, build on the team's previous studies of exactly how pollution from mining activity moves and accumulates in the environment.
The scientists compiled data on mining activity around the world, which was published by governments, mining companies and organisations like the US Geological Survey. This included the location of each mine, what metal it was extracting and whether it was active or abandoned.
Prof Macklin explained that the majority of metals from metal mining is bound up in sediment in the ground. "It's this material - eroded from mine waste tips, or in contaminated soil - that ends up in river channels or [can be] deposited over a flood-plain."
https://www.bbc.co.uk/news/science-environment-66880697

LG Chem with China's Huayou to make battery materials in Indonesia, Morocco
SEOUL, Sept 24 (Reuters) - South Korea's LG Chem Ltd (051910.KS) has entered a partnership with China's Huayou Group's subsidiary Youshan, it said on Sunday, to build a joint electric vehicle (EV) battery material plant in Morocco to diversify its portfolio.
Huayou has joined the growing number of Chinese electric vehicle and battery companies seeking to expand overseas to get closer to their foreign clients and benefit from local incentives.
In a separate statement, Huayou's listed unit Zhejiang Huayou Cobalt Co (603799.SS) said it intended to build plants with LG Chem in Indonesia and Morocco under a strategic partnership to promote international growth.
The Morocco plant, set to start production in 2026, aims to produce 50,000 tonnes of lithium-phosphate-iron (LFP) cathode materials annually, enough to be installed in 500,000 entry-class EVs, the South Korean chemical maker said in a statement.
LG Chem, known for manufacturing more expensive nickel-cobalt-manganese (NCM) cathodes, is entering the LFP cathode business to meet growing demand for cheaper LFP batteries as the auto industry seeks to produce more affordable EVs, whose most expensive components are the batteries.
LG Chem said LFP cathodes produced at the Morocco plant will be supplied to the North American market and could be eligible to receive subsidies from the U.S. Inflation Reduction Act (IRA) as Morocco is a free-trade partner with the United States.
The IRA is designed to wean the United States off the Chinese supply chain for EVs.
It requires at least 40% of the value of critical minerals used in an auto battery to be sourced from the United States or a free trade partner to qualify for a $3,750 tax credit per vehicle. South Korea has a free-trade agreement with the United States.
https://www.reuters.com/technology/lg-chem-partners-with-huayou-group-build-joint-lfp-cathode-plant-morocco-2023-09-24/

Inside Vietnam's plans to dent China's rare earths dominance
HANOI, Sept 25 (Reuters) - Vietnam plans to restart its biggest rare-earths mine next year with a Western-backed project that could rival the world's largest, according to two companies involved, as part of a broader push to dent China's dominance in a sector that helps power advanced technologies.
The move would be a step toward the Southeast Asian country's aim of building up a rare-earths supply chain, including developing its capacity to refine ores into metals used in magnets for electric vehicles, smartphones and wind turbines.
As an initial step, Vietnam's government intends to launch tenders for multiple blocks of its Dong Pao mine before the year's end, said Tessa Kutscher, an executive at Australia's Blackstone Minerals Ltd (BSX.AX), which plans to bid for at least one concession. She cited unpublished information from Vietnam's Ministry of Natural Resources and Environment, which did not respond to requests for comment.
The auction's timing could change but the government plans to restart the mine next year, said Luu Anh Tuan, chairman of Vietnam Rare Earth JSC (VTRE), the country's main refiner and Blackstone's partner in the project.
The proposed restart of Dong Pao - whose timeline, scale and degree of foreign financial support have not been reported previously - comes as many nations fret about their vulnerability to supply disruptions due to China's stranglehold on strategic minerals and its disputes with the U.S. and its allies. Beijing this year imposed export curbs on minor metals used in semiconductors, which an influential Chinese policy adviser warned was "just a start".
https://www.reuters.com/markets/commodities/inside-vietnams-plans-dent-chinas-rare-earths-dominance-2023-09-25/

Congo sees expanded UAE mining investment, seeks Inga partners
Democratic Republic of Congo is still looking for partners for the world's biggest hydropower project and expects expanded mining investments from the United Arab Emirates as the central African nation prepares for December elections.
While talks have stalled over development of the 44-gigawatt Grand Inga project with Australian billionaire Andrew Forrest and his company, Fortescue Future Industries Ltd., President Felix Tshisekedi told reporters in New York there is interest in the project from other potential partners.
"It's not impossible that tomorrow we could see a kind of consortium developing around the World Bank, Chinese investors, maybe Europeans," along with Fortescue, he said on the sidelines of the United Nations General Assembly on Tuesday. Tshisekedi expects to meet this week with Fortescue, which wants to develop a green hydrogen project in Congo. The company declined to comment on Wednesday.
The Congolese leader is looking to position the resource-rich country as a destination for investors seeking climate-change solutions. Besides hydropower, he's pitching carbon credits to protect the world's second-largest tropical forest and investment in critical green-energy minerals including copper and cobalt. Congo is the world's biggest producer of cobalt.
Abu Dhabi-based Primera Group Ltd. will soon increase investments to include those two metals after starting a gold venture with the government in January, Tshisekedi said. The group is also planning a smelter to produce tantalum, tin and tungsten in partnership with a state mining company.
https://www.mining.com/web/congo-sees-expanded-uae-mining-investment-seeks-inga-partners/