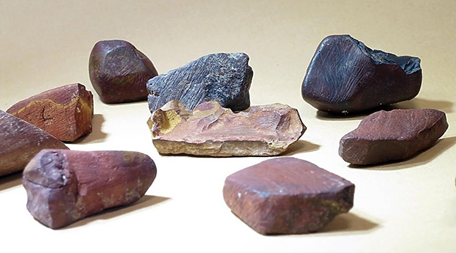 Newsletter – 9.10.2023

9/10/23 WEEKLY NEWSLETTER

HEADLINES
Attack on Israel likely to boost appeal of gold, safe-haven assets

Mexican president exhorts American company to settle after mine closure

Stone Age Ethiopians knew how to source their iron-rich rocks

LME seeks to move on from nickel crisis as traders return

Copper producers warn of lack of mines to meet demand for metal

NORGE MINING PLC ("Norge Mining" or the "Company"): JORC resource at Storeknuten doubles to almost 2 billion tonnes

Nickel miners linked to devastation of Indonesian forests

India to launch auctions of critical mineral mines soon
Attack on Israel likely to boost appeal of gold, safe-haven assets
The violence in Israel will likely prompt a move into safe-haven assets as investors closely watch events in the Middle East to gauge geopolitical risk to markets.
Gunmen from the Palestinian group Hamas entered Israel in an unprecedented attack on Saturday. Western countries, led by the United States, denounced the attack and pledged support for Israel.
Rising geopolitical risk could see buying in assets like gold and the dollar and potentially boost demand for US Treasuries, which have been sold off aggressively, analysts said.
"This is a good example of why people need gold in their portfolios. It is a perfect hedge against international turmoil," said Peter Cardillo, chief market economist at Spartan Capital Securities, who predicted the dollar would also benefit.
"Anytime there is international turmoil, the dollar strengthens," said Cardillo.
Markets have been reacting in recent weeks to an expectation that US interest rates will stay higher for longer. Bond yields have soared while the U.S. dollar has been on a streak of gains. Stocks meanwhile had sharp losses for the third quarter but stabilized in the last week.
"Whether this is a massive market moment or not depends on how long it lasts and whether others are sucked into the conflict," said Brian Jacobsen, chief economist at Annex Wealth Management, of the situation in Israel. Jacobsen questioned how much impact it would have on the oil price despite Iran having been boosting output.
The Hamas attack was openly praised by Iran and by Hezbollah, Iran's Lebanese allies.
"Iranian oil production has been increasing, but any progress they've been making behind the scenes with the US will be dramatically undermined by Iran's celebrating Hamas's actions," said Jacobsen, adding that "the possible output loss matters, but it won't be earth-shattering."
"It's most critical to see how Saudi Arabia reacts," said Jacobsen. Washington has been trying to strike a deal that would normalise ties between Israel and Saudi Arabia.
https://www.mining.com/web/attack-on-israel-likely-to-boost-appeal-of-gold-safe-haven-assets/

Mexican president exhorts American company to settle after mine closure
Mexico's President Andrés Manuel López Obrador exhorted Vulcan Materials' subsidiary, Calica, to accept his government's $440 million offer for the 2,000 hectares it has under concession in the southeastern Quintana Roo state.
During a press conference, López Obrador accused the American company of causing an environmental disaster for the over 30 years it operated in a region surrounded by a jungle, underground rivers, cenotes and mangroves. He said authorities would not allow any more limestone extraction in the area.
AMLO noted that, despite his government's offer, the company refuses to sell and demands a $1.5-billion compensation for the closure of its operation, which was ordered in May 2022.
"It is not possible to allow them to continue operating. We sent them a proposal to seek an agreement, but I think they are poorly advised," the President said, adding that Vulcan's shareholders seem to be waiting for the end of his term to go on with their work.
But López Obrador warned that he won't leave the issue hanging and will put an end to it before leaving office. He also said that his administration plans to turn a section of the mine into a recreational facility and establish a protected area in the surrounding terrain.
https://www.mining.com/mexican-president-exhorts-american-company-to-settle-after-mine-closure/

Stone Age Ethiopians knew how to source their iron-rich rocks
Ochre pieces found at Porc-Epic cave, Ethiopia.
Changes in the use of ochre in Middle Stone Age Ethiopia depict a culture in slow transition, progressively replacing exotic iron-rich high-quality rocks with lower quality, poorer in iron, but locally available ones.
A recent paper in the journal Scientific Reports states that such a shift could be the result of a cultural change, entailing an increasing need for coarser powder linked to a growing significance of specific activities, or to limited access to high-quality raw materials, produced by the evolution of erosive processes bringing good quality raw materials closer to the site from their primary sources.
To reach these conclusions, a team of researchers from Spain and France carried out chemical and technological analyses of the largest known collection of red and yellow mineral pigments, commonly called ochre, dated between 300,000 and 40,000 years ago, and found at Ethiopia's Porc-Epic cave.
The study reveals that human groups visiting this site gradually modified the techniques used to produce pigments, as a result of cultural or environmental changes that limited their access to better-quality raw materials. The research also shows that the area's inhabitants were able to predict the properties of different ochre types accessible in their environment and gradually adapt their technology according to changes in the availability of raw materials.
https://www.mining.com/stone-age-ethiopians-knew-how-to-source-their-iron-rich-rocks/

LME seeks to move on from nickel crisis as traders return
The chief executive of the London Metal Exchange says he's optimistic that the 146-year-old trading venue is beginning to move on from the nickel crisis that threatened to destroy it.
It's been a turbulent 19 months since Matthew Chamberlain responded to a runaway short squeeze by suspending the world's benchmark nickel market and canceling $12 billion of trades. The controversial decisions drove angry investors away from the LME and left the exchange wading through lawsuits and regulatory scrutiny, while its nickel contract remained in tatters.
Now, Chamberlain is sounding a cautious note of optimism. "A degree of stability" has returned to the nickel market, he said in an interview, pointing to rising liquidity and lower volatility. And in the exchange's other metals contracts, trading volumes are showing early signs of a return to growth after years of decline.
"It feels that we are back on that gentle growth trajectory," the CEO said. "We recognize the challenges that have happened but we think we can hold our head up and say ours is an exchange that's attractive to trade on," he said. "There's a lot more work to do, but we can really focus on the future."
As the home of benchmark prices for key metals from copper to zinc, the LME lies at the heart of the global metals world — and any crisis or drama at the exchange inevitably sends ripples through the whole industry.
Since taking the helm six years ago, Chamberlain has had his share of fights, from an attempt to close the LME's historic trading floor to disagreements over whether it should keep accepting Russian metal, and of course the handling of the nickel saga.
This week, as thousands of traders, financiers and investors descend on London for the annual LME Week gathering, Chamberlain can point to concrete signs that his efforts to restore confidence in the market are starting to bear fruit. Nickel trading volumes have picked up in the past few months and the extreme volatility that plagued the nickel market for much of the past year is waning, although the contract still remains a shadow of its former self.
https://www.mining.com/web/lme-seeks-to-move-on-from-nickel-crisis-as-traders-return/

Copper producers warn of lack of mines to meet demand for metal
The world's largest copper producers have warned that there is a lack of mines under development to deliver enough of the metal to keep pace with the clean energy transition.
Kathleen Quirk, president of Freeport-McMoran, speaks of her concerns over developing copper supplies at the FT mining summit
The warning comes as miners struggle with falling metal prices because of the weakness of the global economy and cost inflation, which makes executives, investors and banks cautious over financing new projects.
With labour shortages also holding back new supplies, there are worries over the switch to carbon-free power since copper is vital to manufacture electric cars and upgrade the electricity grid.
Kathleen Quirk, president of Freeport-McMoran, the largest US copper producer, said that higher copper prices alone would not be enough to secure enough metal needed for the world to go green.
"Now it's not just price. It's these other factors that really are going to limit how quickly we can develop supplies," she said, speaking on the sidelines of the FT Mining Summit last week. "What may end up happening is that this [energy transition] gets extended out longer."
Copper prices have dropped 4 per cent this year to about $8,000 a tonne, down from more than $10,000 at their peak last year, as the growth in the world economy has cooled off and production at new mines in Peru and Chile has been increasing.
https://www.ft.com/content/b3ad2631-f8b9-41df-8e2e-b4493738ded8

NORGE MINING PLC ("Norge Mining" or the "Company"): JORC resource at Storeknuten doubles to almost 2 billion tonnes
Major increase in world-class1 deposit of EU Critical Raw Materials in Norway

400 million tonnes in the Indicated category for the first time

Beneficiation work shows a high level of recovery of target compounds
LONDON, October 09, 2023--(BUSINESS WIRE)--Norge Mining plc, the Anglo-Norwegian mineral exploration company with a world-class resource of Critical Raw Materials in southwest Norway, announces an updated JORC2 compliant mineral resource statement for its Storeknuten Deposit of phosphate, vanadium, titanium and iron ore of some 1.94 billion tonnes, substantially increased from the 910 million tonnes reported in February 2022 and further endorsing the global significance of the discovery.
In addition to a more than two-fold increase in the total resource, this updated estimate includes resource in the Indicated category for the first time, totalling some 400 million tonnes, along with further positive data on mean grades of the EU Critical Raw Materials phosphate, vanadium and titanium. The magnetite (iron ore) grade of the deposit has also been included owing to the role of iron in lithium iron phosphate (LFP) batteries, a potential end market.
Storeknuten is part of the Høyland Exploration Area in the Company's Bjerkreim Exploration Project, which is currently at the pre-feasibility study stage.
https://finance.yahoo.com/news/norge-mining-plc-norge-mining-060000054.html?

Nickel miners linked to devastation of Indonesian forests
Rising demand for electric vehicles and the batteries that power them leads to more trees being felled
A Vale Indonesia nickel processing plant
US carmaker Ford, Brazil's Vale, China's Tsingshan and Hong Kong's Jardine Matheson are invested in Indonesian nickel projects responsible for the clearance of large swaths of some of the world's most biodiverse forests.
New data compiled by environmental group Mighty Earth and its partner Brown Brothers Energy and Environment shows that at least 76,301 hectares — an area the size of New York City — of tropical forests has been cleared within 329 nickel concessions. Roughly 23,000ha of that — or 30 per cent — has been cut down since 2019, as demand for electric cars and the nickel batteries that power them has increased.
With its vast nickel reserves, Indonesia hopes to become a global powerhouse in the electric vehicle supply chain. US Geological Survey data shows that last year it generated almost half of the world's nickel.
But deforestation, coupled with waste, pollution, high carbon emissions and displacement of villages, has put pressure on the government and miners to clean up their act and on carmakers to search for alternative sources of nickel, such as Australia. President Joko Widodo said in March Indonesia would step up scrutiny of the sector and tell companies to reforest depleted mining regions.
https://www.ft.com/content/cd1fd7f3-b3ea-4603-8024-db75ec6e1843

India to launch auctions of critical mineral mines soon
Tenders for critical minerals including nickel, lithium, cobalt, platinum and other rare earths, is expected to take place in December.
The government of India is set to launch the long-awaited auctions of critical mineral mines over the next few weeks, Business Standard reported.
The government plans to finalise the auction roadmap, Ministry of Mines additional secretary Sanjay Lohiya stated at the India Mining Summit organised by the Confederation of Indian Industry (CII).
Since August 2023, preparations have been taking place to auction about 100 critical mineral blocks including lithium, cobalt, nickel, platinum and other rare earth elements. Works on legal framework and block identification is said to have been completed.
Tender for bids is expected to begin in December 2023 while the auctions could begin three months later.
Business Standard quoted Lohiya as saying: "The auction will start from our ministry in the next few weeks. It will not be one or two rounds in a year but it will depend on the availability of (mineral) blocks and the demand in the market."
The auctions plan coincides with the country's ambition for the growth of critical minerals and its commitment to promote innovation and economic growth.
In July, the government prepared ground for the auctions, by approving amendments to the Mines and Minerals (Development and Regulation) Act, 1957. The amendments will allow for the mining of lithium and five other critical minerals.
The amendment also proposed to include a provision for exploration licence which will be awarded through auctions.
It follows the discovery of lithium reserves in the country's Jammu and Kashmir region and state of Karnataka.
https://www.mining-technology.com/news/india-auction-critical-mineral-mines/?cf-view