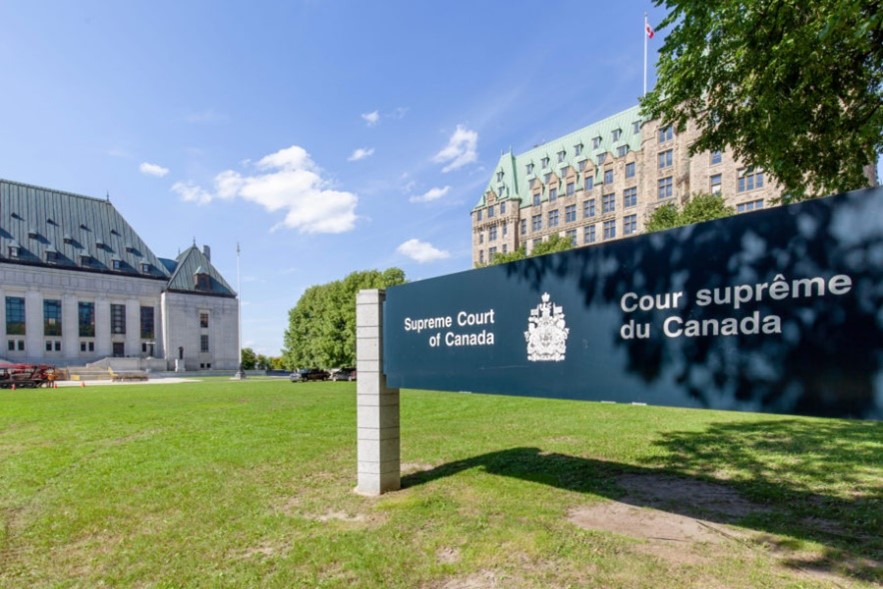 Newsletter – 16.10.2023

16/10/23 WEEKLY NEWSLETTER

HEADLINES
Supreme Court of Canada rules federal environmental impact law is unconstitutional

Saudi Arabia set to become global hub for green mineral processing: Minister

Global markets brace for more volatility amid Israel conflict

ERG enters cobalt supply deal with EVelution in US

Researchers monitor emissions from Africa's Copperbelt mines from space

Adani Group inflated coal import price between 2019 and 2021 — Financial Times

Mexico govt blames Grupo Mexico for 2014 toxic spill, wants new cleanup plan

Barrick Gold shares rise as special lease clears the way for production restart in Papua New Guinea
Supreme Court of Canada rules federal environmental impact law is unconstitutional
A federal environmental law that regulates natural-resource projects in the provinces is unconstitutional, the Supreme Court ruled 5-2 on Friday.
The Supreme Court of Canada in Ottawa
The Impact Assessment Act took effect in August, 2019. It enables Ottawa to regulate energy, mining and other project proposals based on effects that fall into federal jurisdiction – such as on Indigenous peoples, birds, fish, and climate change.
Alberta referred the question of the law's constitutionality to the province's Court of Appeal, which ruled 4-1 last year that the law violated provincial jurisdiction. The federal government appealed the ruling to the Supreme Court.
The Supreme Court majority said that, while federalism – the sharing of power between Ottawa and the provinces – includes co-operation and flexibility, courts should not erode the constitutional balance of the Canadian federal state.
After analyzing the complex workings of the 2019 law, the majority said it gives federal authorities the power to place a project permanently on hold for reasons that go beyond effects within federal jurisdiction. In essence, it said that instead of simply assessing adverse effects, it would be deciding whether a project as a whole is in the public interest. And that, said the majority, is "an unconstitutional arrogation of power by Parliament."
As a hypothetical example, it set out a mining project with negative effects on fisheries. The mining project is provincial, the fisheries a federal responsibility. The potential harm to the fishery "serves as the gateway to making a decision about the public interest in the project as a whole," Chief Justice Richard Wagner wrote. He was joined by the lone Alberta judge on the court, Justice Sheilah Martin, and Justice Malcolm Rowe, Justice Suzanne Côté and Justice Nicholas Kasirer.
https://www.mining.com/web/supreme-court-rules-federal-environmental-impact-law-is-unconstitutional/

Saudi Arabia set to become global hub for green mineral processing: Minister
RIYADH: Saudi Arabia is poised to emerge as a prominent regional and global hub for green minerals processing, the Kingdom's vice minister of Industry and Mineral Resources for Mining Affairs has insisted.
Speaking at Middle East and North Africa Climate Week 2023, Khalid bin Saleh Al-Mudaifer outlined Saudi Arabia's strategy for becoming a powerhouse in the sector, according to the Saudi Press Agency.
He emphasized that by leveraging the Kingdom's strategic location, advanced infrastructure, and strong local demand, the government is charting a path towards securing the minerals necessary for its national industrial transformation.
These efforts are aligned with a global vision for a more sustainable and environmentally friendly future, as reported by SPA.
Al-Mudaifer said: "The Kingdom of Saudi Arabia is committed to the transition to green energy, as demonstrated by the development of a mining and mineral industries strategy designed to address critical challenges."
He added that these involve discovering and developing new resources, which can be two to 10 times the current production capacities.
"The challenges include stimulating financing for early-stage exploration, ensuring the availability and reliability of geological data, promoting innovation and technology to enhance sustainability and productivity, and ensuring timely production of metals," he continued.
https://www.arabnews.com/node/2389281/business-economy

Global markets brace for more volatility amid Israel conflict
Traders are preparing for another week of wild price swings as continuing conflict in the Middle East fuels demand for haven assets and prompts investors to reconsider their views on global interest rates.
The US dollar, Japan's yen, and the Swiss franc — all traditional refuges in times of turmoil — will be in focus on Monday as markets reopen at 5 a.m. in Sydney. Risk-sensitive currencies, including the Australian dollar, saw early selling at last week's open and could again be under pressure. Gold surged by the most since March on Friday.
The market will also scrutinize oil prices and Treasuries, after a tumultuous week in which bonds whipsawed between the biggest gains and losses in years. Israel's main share index, the TA-35, resumed its decline on Sunday.
https://www.mining.com/web/global-markets-brace-for-more-volatility-amid-israel-conflict/

ERG enters cobalt supply deal with EVelution in US
Eurasian Resources Group (ERG) has reached a deal with electric vehicle battery materials producer EVelution Energy to sell cobalt to the latter.
Under the five-year agreement, which is effective from 2026, ERG will supply cobalt hydroxide to EVelution's cobalt processing facility in the US.
ERG is expected to sell 3,000 tonnes of contained cobalt metal a year to EVelution, reported Reuters.
The cobalt hydroxide is due to be supplied by Metalkol, ERG's operation in the Democratic Republic of Congo.
Construction on EVelution's low-carbon cobalt sulphate plant in Arizona, US, is expected to start in 2024. It is scheduled to be commissioned by 2026 and will be powered with solar energy.
In a press statement, ERG said: "The collaboration between ERG and EVelution is set to energise the US minerals sector, and further the sustainability agenda by creating more manufacturing jobs in the US, as well as helping to combat climate change on a global scale.
https://www.mining-technology.com/news/erg-cobalt-supply-evelution/

Researchers monitor emissions from Africa's Copperbelt mines from space
Kansanshi, one of the largest copper mines in Zambia.
A new study led by the US National Center for Atmospheric Research (NCAR) found that emissions associated with mining operations in Africa's Copperbelt can be quantified from space.
"Mining operations can have a significant impact on the quality of life of the people living nearby," said Pieternel Levelt, director of NCAR's Atmospheric Chemistry Observations and Modeling Lab and senior author of the paper that presents the new findings. "This research can help us better understand how severe and widespread those impacts may be in mining areas like the Copperbelt while also giving us a tool for estimating the growth of mining activities in remote regions that are driving those impacts."
Levelt noted that data from the Cobalt Institute show that Africa's Copperbelt produced 73% of the world's supply of cobalt in 2022. Cobalt production in the area, which straddles Zambia and the Democratic Republic of Congo, increased about 600% between 1990 and 2021, the US Bureau of Mines and the US Geological Survey report.
The vast majority of cobalt is produced as a byproduct of copper mining, though some copper mines do not produce any cobalt. Most of the energy consumed in copper and cobalt mining—including the operation of large machinery and electricity production—is generated by burning diesel fuel, which in turn produces nitrogen oxides, a key ingredient in smog.
https://www.mining.com/researchers-monitor-emissions-from-africas-copperbelt-mines-from-space/

Adani Group inflated coal import price between 2019 and 2021 — Financial Times
Customs records reviewed by the Financial Times suggest Adani Group imported billions of dollars of coal at prices well above market value over a two-year period.
According to the newspaper, the data substantiates allegations that India's largest private coal importer has been artificially inflating fuel costs, resulting in millions of Indian consumers and businesses overpaying for electricity.
The records reveal that over two years, Adani utilized offshore intermediaries in Taiwan, Dubai, and Singapore to import $5 billion worth of coal, with prices at times exceeding double the market rate.
One of the companies' owners is a Taiwanese businessman recently identified by the Financial Times report as a concealed shareholder in Adani companies.
The FT also scrutinized 30 shipments of coal from Indonesia to India by an Adani company over 32 months between 2019-2021. In all instances, import record prices significantly surpassed those in corresponding export declarations. Throughout the journeys, the combined shipments' value increased by over $70 million.
Adani Group denied any wrongdoing and said the Financial Times story is based on an "old, baseless allegation", and is "a clever recycling and selective misrepresentation of publicly available facts and information".
https://www.mining.com/adani-group-inflated-coal-import-price-between-2019-and-2021-financial-times/
Mexico govt blames Grupo Mexico for 2014 toxic spill, wants new cleanup plan
A 2014 toxic spill in a Mexican river blamed on Grupo Mexico was not an accident but a result of negligence, the country's environment minister said on Thursday, while urging the mining conglomerate to create a new plan to remediate the damage.
"It was not an accident, it was negligence," Environment Minister Maria Luisa Albores said, adding that the government filed a complaint in August against the company, one of the world's largest copper producers.
Grupo Mexico failed to remediate the river's water and soil and did not provide the funds to carry out proper works for the environmental recovery of the area, according to Albores.
The company needed to provide an initial 2 billion pesos ($111.86 million), of which it only provided half, she said.
The spill was first detected on the morning of Aug. 6, 2014 and pumped 40,000 cubic meters (over 10 million gallons) of toxic mining acid into the Bacanuchi river in Mexico's northern Sonora state, the federal attorney general's office for environmental protection (Profepa) said at the time.
The possible fine for the spill was set at up to 40 million pesos, worth about $3 million then.
The government is now asking for a new remediation plan that not only targets soil contamination, but other components such as water and air. Albores did not say how much this could cost the company.
https://www.mining.com/web/mexico-govt-blames-grupo-mexico-for-2014-toxic-spill-wants-new-cleanup-plan/

Barrick Gold shares rise as special lease clears the way for production restart in Papua New Guinea
Barrick Gold Corp. (TSX:ABX, NYSE:GOLD) told investors that Papua New Guinea Governor-General Sir Bob Dubae has granted a special mining lease to its New Porgera Limited (NPL) joint venture, clearing the way for production to restart at the gold mine.
Barrick's shares rose 4.15% to $15.76 by midday in New York.
Mine operator Barrick Niugini owns a 49% stake in the New Porgera mine, with Papua New Guinea shareholders holding a majority 51% stake.
After being on care and maintenance for three years, Barrick said in a statement that the mine was positioned to restart before the end of the year, subject to an agreement on compensation.
Recruitment was being accelerated to employ the full workforce that would be required when the mine started ramping up operations as soon as the compensation agreements were in place, the company added.
"It's been a long road, but the end is now in sight. Negotiations between Barrick, the government and the other stakeholders required patience and persistence but the spirit of partnership in which they were conducted eventually led to an outcome acceptable to all," Barrick president and chief executive Mark Bristow said.
https://www.proactiveinvestors.co.uk/companies/news/1029719/barrick-gold-shares-rise-as-special-lease-clears-the-way-for-production-restart-in-papua-new-guinea-1029719.html