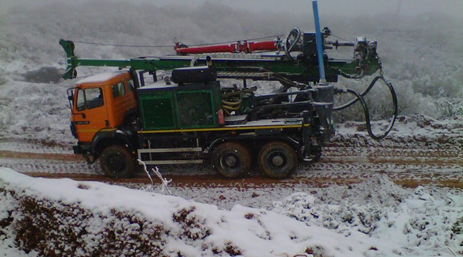 Newsletter – 23.10.2023

23/10/23 WEEKLY NEWSLETTER

HEADLINES
Strategic Minerals to 'fight' for reopening of suspended section at its Spanish tin-tantalum mine

Kazakh miner ERG plans $800 million revamp of DRC copper, cobalt mine

Lithium company executive seeking federal backing was key figure in Alberta Energy Regulator spending scandal

Ionic wins licence to mine rare earths in Uganda

Zimbabwe's biggest diamond miner shifts sales to Dubai auctions

Boliden's profit falls as lower prices, grades weigh

Graphite buyers to boost imports ahead of China's curbs – analysts

PIF, Hyundai sign deal to establish over $500m auto plant in Saudi Arabia
Strategic Minerals to 'fight' for reopening of suspended section at its Spanish tin-tantalum mine
Work at the Penouta mine.
Strategic Minerals Europe (NEO: SNTA) issued a media statement saying it will push for the restart of section C of its Penouta tin-tantalum mine in northwestern Spain, following a decision by Galicia's Superior Court of Justice (TSXG) to provisionally suspend the permit.
The Court's Litigation Section issued the ruling in response to a complaint submitted by environmental organization Ecoloxistas en Acción, whose members fear the impacts the mine may have on the protected area of Pena Trevinca, part of the EU's Natura 2000 Network.
"Ecoloxistas en Acción has been denouncing for years the impacts of the Penouta mining operation in Viana do Bolo, including the dumping of waste in the nearby rivers, thus affecting the Pena Trevinca LIC," the activists said in a communiqué. "Despite the warnings and allegations of environmentalist organizations, the Xunta de Galicia (regional government) issued a favourable Environmental Impact Statement in March 2022 that allowed the company to start open-pit exploitation, increasing the environmental impacts without properly assessing the effect on the Network Natura 2000, hydrology and nearby houses in the village of Penouta. Now, they demand that the Xunta respects the court decision and orders the immediate stoppage of the mining activity in compliance with the order."
Strategic Minerals, however, said that the NGO's claims, and therefore the tribunal's decision, are based on inaccurate information related to exploitation activities affecting irrigation and the immediate area.
https://www.mining.com/strategic-minerals-to-fight-for-reopening-of-suspended-section-at-its-spanish-tin-tantalum-mine/

Kazakh miner ERG plans $800 million revamp of DRC copper, cobalt mine
Kazakh miner Eurasian Resources Group (ERG) plans to invest $800 million to revamp its Comide copper, cobalt mine in Democratic Republic of Congo, it said on Friday.
Comide copper-cobalt mine in DRC.
"The project includes the construction of a hydrometallurgical plant, an extensive exploration and drilling programme, as well as mine development," the company said in a statement.
ERG expects the hydrometallurgical plant to be complete by the end of 2025.
The plant is designed for phased operational output, with expansion potential to produce approximately 120,
https://www.mining.com/web/kazakh-miner-erg-plans-800-million-revamp-of-drc-copper-cobalt-mine/

Lithium company executive seeking federal backing was key figure in Alberta Energy Regulator spending scandal
Zeeshan Syed, a former Alberta Energy Regulator (AER) executive who was engulfed in a public sector spending scandal in Alberta only four years ago, welcomed two Liberal cabinet ministers to the Thunder Bay site of his junior mining company's proposed lithium refinery last week, and is optimistic he can attract taxpayer funding for the venture.
The visit, which was widely publicized by Mr. Syed's company to attract media and investor attention, saw both François-Philippe Champagne, the Federal Industry Minister, and Patty Hajdu, Indigenous Services Minister, heap praise on his struggling penny stock mining company, Avalon Advanced Materials Inc. (TSX: AVL).
Before joining Toronto-based Avalon, Mr. Syed worked for AER for five years as vice-president of national and international relations, one of its highest-ranking executive positions. In 2019, he was censured by Alberta's Auditor-General, and the province's ethics commissioner, for financial mismanagement during his tenure at AER.
The allegations included profligate spending of public-sector funds, secretly setting up a for-profit venture within the public-sector entity and working with AER chief executive Jim Ellis to make sure they both would profit from it handsomely.
https://www.mining.com/web/lithium-company-executive-seeking-federal-backing-was-key-figure-in-alberta-energy-regulator-spending-scandal/

Ionic wins licence to mine rare earths in Uganda
Australia's Ionic Rare Earths (ASX: IXR) secured on Friday a large-scale mining licence for its the Makuutu heavy rare earths project in Uganda.
The permit was granted by the Ugandan Directorate of Geological Survey and Mines (DGSM) to Rwenzori Rare Metals, a company in which Ionic Rare Earths has a 51% interest but has the right to earn up to 60%, Ionic said.
The rest of Makuutu is held by Rare Earth Elements Africa (REEA) with a 42% stake and local partners, which own the remaining 7% stake.
Located about 40 km east of the regional centre of Jinja and 120 km east of the capital city Kampala, in eastern Uganda, the Makuutu project comprises six licences. The asset hosts heavy rare earth oxides (HREO), which are easily extracted by applying rudimentary mining and processing methods.
Stage one of the mining licence covers an area that constitutes 44km² of Makuutu's tenements covering 298km² of land.
Ionic also released a positive feasibility study earlier this year and has received approval to build a demonstration plant at the project.
"This announcement reinforces the Makuutu project as one of the world's largest and most advanced development-ready heavy rare earth element assets, and we look forward to progressing the next steps and commissioning our Demonstration Plant at Makuutu," managing director Tim Harrison said in the statement.
https://www.mining.com/ionic-wins-licence-to-mine-rare-earths-in-uganda/

Zimbabwe's biggest diamond miner shifts sales to Dubai auctions
Zimbabwe's biggest diamond producer has shifted almost all of its sales to Dubai, targeting cutters, polishers and traders and eliminating middlemen.
Most of the diamond fields are in Marange in eastern Zimbabwe, where production is dominated by the state-owned Zimbabwe Consolidated Diamond Company (ZCD)
Zimbabwe Consolidated Diamond Co. has auctioned 4 million carats of stones so far this year in the emirate, up from 850,000 carats for the whole of 2022. The state-owned miner is targeting revenue of $1 billion by 2030, according to Sales and Marketing Manager Enock Moyo.
Three auctions held in Dubai have attracted an average of about 150 buyers, at least five times the number for sales in Zimbabwe, said Moyo, adding that better quality diamonds have also helped. Selling rough stones in the United Arab Emirates has also eliminated the middlemen that used to bid in auctions in the southern African country.
"For us, Dubai has been a game changer," Moyo said in an interview.
The switch in sales to Dubai comes amid a slump in global diamond prices. Buyers in India — the industry's biggest customers for rough stones — have been putting pressure on the largest miners to rein in supply. Last month, Russian diamond giant Alrosa PJSC said it was halting all sales until November.
The Zimbabwean producer expects gem prices to firm up by early next year.
The UAE already ranks as the No. 3 export destination for Zimbabwe, after South Africa and China. It's the biggest buyer of the nation's gold and the second-largest buyer of tobacco.
https://www.mining.com/web/zimbabwes-biggest-diamond-miner-shifts-sales-to-dubai-auctions/

Boliden's profit falls as lower prices, grades weigh
Boliden on Friday reported a slightly bigger-than-expected dive in third-quarter profit hurt by high costs, lower mining grades and falling metal prices, sending shares in the mining and smelting group down 7%.
Operating profit fell to 1.91 billion crowns from 3.55 billion, the Swedish copper and zinc producer said, missing the 2.03 billion expected by analysts in an LSEG poll.
"The price for all Boliden's main metals fell, except for lead. Weak economic activity, notably in Europe and China, impacted demand for metals," Boliden said in a statement.
Shares in the group, which also produces nickel, lead, gold and silver, were down 7% in mid-morning trade, taking a year-to-date fall to 29%.
"The company has been facing a series of operational issues in their mining division, had a fire at its Ronnskar smelter which destroyed the tank house and has faced substantial cost inflation," RBC analyst Tyler Broda said.
A fire in June forced Boliden to halt production at the Ronnskar copper smelter in Sweden, its biggest production unit. Production has partly resumed but with lower profitability.
https://www.mining.com/web/bolidens-profit-falls-as-lower-prices-grades-weigh/

Graphite buyers to boost imports ahead of China's curbs – analysts
Some graphite consumers will aim to accelerate imports of the EV battery ingredient from China in November before the country's export curbs for some products come into force, but it may be difficult due to complex specifications, analysts said.
China, the world's top graphite producer and exporter, said on Friday that from Dec. 1 exports of some types of natural and man-made forms of graphite would require permits.
Graphite is used in virtually all EV battery anodes, which is the negatively charged portion of a battery.
"I expect we will see a surge in November of both buying and prices," said Tom Burkett at consultancy Global Graphite Advisory LCC.
Existing producers in Canada and Africa will receive an immediate positive impact with new producers in Australia, Brazil, Africa, Canada and the US likely to experience a new round of investment to move to production as quickly as possible, he added.
The curbs are similar to those in place since Aug. 1 for two chip-making metals, gallium and germanium. Their announcement boosted China's exports in July as overseas buyers rushed to lock in supply, while the launch of the restrictions slashed exports in August-September.
https://www.mining.com/web/graphite-buyers-to-boost-imports-ahead-of-chinas-curbs-analysts/

PIF, Hyundai sign deal to establish over $500m auto plant in Saudi Arabia
RIYADH: Saudi Arabia's Public Investment Fund on Sunday signed an agreement with Hyundai Motor Co. to establish an automated vehicle manufacturing plant worth over $500 million in the Kingdom.
The wealth fund will hold a 70 percent stake in the joint venture with the Korean automaker holding the remaining shares, said a PIF statement.
Hyundai will also act as a strategic technology partner to support the development of the plant, by providing technical and commercial assistance.
The joint venture announced at the Saudi-Korean Business Forum, aims to manufacture 50,000 vehicles per year, including both internal combustion engines and electric vehicles. The plant groundbreaking is planned for 2024, and production is expected to begin in 2026.
Commenting on the project, Yazeed A. Al-Humied, deputy governor and head of MENA Investments at PIF, said: "Partnering with Hyundai is another significant milestone for PIF in successfully enabling and accelerating the growth of Saudi Arabia's automotive ecosystem — one of our 13 priority sectors."
The new manufacturing plant will create thousands of jobs and allow for knowledge and expertise transfer. The localization of Hyundai's vehicles will accelerate the development of Saudi Arabia's automotive and mobility ecosystem and attract further investments to the sector and the wider economy.
The partnership is PIF's latest initiative to elevate Saudi Arabia as a global automotive player, drive transformation in the sector, and boost manufacturing capabilities, infrastructure, and supply chains in Saudi Arabia and beyond. Among the major investments in the sector, PIF announced recently the launch of Tasaru, the National Automotive and Mobility Investment Co., which is dedicated to localizing automotive supply chains and manufacturing capabilities. In addition, PIF and Saudi Electricity Co. announced the Electric Vehicle Infrastructure Co., with plans to install over 5,000 electric car fast chargers across Saudi Arabia by 2030.