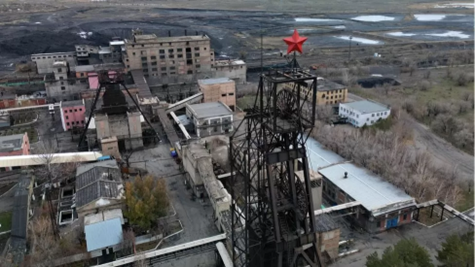 Newsletter – 30.10.2023

30/10/23 WEEKLY NEWSLETTER

HEADLINES
Kazakhstan mine fire leaves at least 42 dead

Anglo American to be served with class action over former coal miners

Traders and banks strike deals in Russian metals as taboo fades

Zijin says it will advance disputed, giant Congo lithium project

Rinehart buys 18% stake in Azure Minerals to block SQM takeover

Germany's Scholz says his country willing to invest in Nigerian gas, minerals

Saudi mining sector's income jumps 63% in 2022

Ma'aden working to extract lithium from seawater
Kazakhstan mine fire leaves at least 42 dead
The death toll caused by a fire at a mine in Kazakhstan has risen to 42.
The blaze ignited on Saturday and 32 people were initially reported dead at the Kostenko mine, which is owned by steel giant ArcelorMittal.
The new figure was confirmed by the ministry for emergency situations as rescuers pulled bodies from the rubble.
The search for four missing miners is ongoing at the partially destroyed mine.
Emergency services are searching for the miners in two main areas of the wreckage, spaced more than 4 kilometres apart.
"The search operation is hampered by the presence of destroyed mining equipment, as well as rubble in some places", the ministry said in a statement.
ArcelorMittal Temirtau, the local unit of Luxembourg-based steelmaker ArcelorMittal, said 206 of 252 people at the Kostenko mine had been evacuated.
The fire, which is believed to have been sparked by a methane blast, broke out on the same day as a deal to nationalise the company's mining operations in Kazakhstan was confirmed.
Kazakh President Kassym-Jomart Tokayev had ordered investment in the country's biggest steel mill to be halted prior to the blaze as he pushed for nationalisation.
He expressed his condolences to the families of the bereaved, calling the incident a "tragedy" and describing ArcelorMittal Termitau, the local unit of the company, as "the worst" in Kazakhstan's history "from the point of view of cooperation with the government and the enterprise".
"Now we will think of taking a decision in regards to the enterprise itself," he told Reuters.
https://www.bbc.co.uk/news/world-europe-67248267

Anglo American to be served with class action over former coal miners
HUMAN rights lawyer Richard Spoor has launched a second class action seeking compensation for coal miners suffering from lung disease, this time employees at Anglo American.
The first, launched in August, was against South32, Seriti Resources and BHP. They come five years after Richard Spoor Incorporated extracted compensation for miners who contracted silicosis whilst working on mines owned by Harmony Gold, Gold Fields, African Rainbow Minerals, Sibanye-Stillwater, AngloGold Ashanti and Anglo American.
Commenting on Anglo American's responsibilities to former coal miners, Richard Spoor Incorporated said: "The global mining company should act on its promise to ensure the rights of its former employees are restored and that they receive justice and compensation in this lifetime for the damages caused to their health while working in these mines".
A company spokesperson said that Anglo American has been informed that Richard Spoor Incorporated has filed legal action on behalf of former coal miners.
"We have not yet been served with the application. Once we do, we will study its content and consider our position," the spokesperson told News24.
"It's a process, but what we're hoping is to grab hold of those who benefitted from this neglect of miners and their families' lives and their health and to hold them accountable in some measure," said Richard Spoor.
Anglo is also facing a class action for its involvement in a lead mine in Zambia's Kabwe region. In January, South Africa's High Court was told that Anglo American turned a "blind eye" to lead poisoning for almost 50 years.
Anglo, which had a stake in the Broken Hill Mine between 1925 and 1974, said it only held a shareholding in the operator and mining continued after the mine was nationalised.
The lawsuit, filed by 13 plaintiffs on behalf of the community, is demanding compensation and a clean up of the area. Lead poisoning can cause health problems ranging from learning difficulties to infertility, brain damage and, in some cases, death.
https://www.miningmx.com/trending/54822-anglo-american-to-be-served-with-class-action-over-former-coal-miners/

Traders and banks strike deals in Russian metals as taboo fades
Nearly two years since the invasion of Ukraine, a handful of western banks and traders from Citigroup Inc. to Trafigura Group are increasingly willing to enter new deals for Russian metals, seizing opportunities for profit while competitors hold back.
The deals show how some traders are navigating the thicket of sanctions and other restrictions on Russia in order to keep its natural resources flowing, amid conflicting messages from western capitals about whether they want companies to handle Russian commodities. At a time when many are struggling to make money in metals trading, deals involving Russian supplies are one of the few areas where it's possible to make a solid profit, according to the head of one trading house, speaking privately.
There are no blanket restrictions from western governments on trading Russian metal, and the deals don't involve those companies that are under US or European sanctions. However, the status of Russian material has been a fraught subject in the metals world, as many western buyers pulled back — resulting in a sharp increase in sales to Asia — while rival producers lobbied unsuccessfully to have even non-sanctioned supplies banned by the LME.
https://www.mining.com/web/traders-and-banks-strike-deals-in-russian-metals-as-taboo-fades/

Zijin says it will advance disputed, giant Congo lithium project
China's Zijin Mining said it will defend its right to advance the contested Manono Lithium mine in the Democratic Republic of Congo (DRC), after it was granted permission to develop the deposit.
The permit to develop one of world's largest hard rock deposits of the mineral initially belonged to Australian AVZ Minerals, but was revoked in February by the DRC's mines ministry that said the company had not developed it fast enough.
China's top gold and copper miner, Zijin has been snapping up lithium assets in recent years in South America as well as Africa, to produce the metal used in electric vehicle batteries.
Manono Lithium SAS, a joint venture through which Zijin subsidiary Jinxiang Lithium owns a 61% stake and DRC'S state-owned Cominiere the remaining interest, was granted rights over the northeast tenement of the Manono mine, the company told the Hong Kong Stock Exchange on Tuesday.
AVZ, which said it owns the Manono project through its unit Dathcom Mining SA, has pending legal challenges against Cominiere and another unit of Zijin.
Zijin is committed to developing the project with Cominiere, the DRC, local stakeholders and the DRC people, Chen Chen, legal counsel for Zijin Mining, told Reuters on Wednesday.
"We cannot speculate as to what legal issues will arise in the future, but will defend the new joint venture so that work on the northern tenement may continue for the benefit of the DRC and its local communities," she said.
AVZ, which was worth A$2.8 billion ($1.79 billion) when it de-listed from the Australian stock exchange last year, said it owns the project.
"AVZ has been in constructive negotiations with the DRC government to establish a pathway to grant the mining licence and the resolution of arbitrations between AVZ and DRC controlled entities," it told Reuters on Wednesday.
https://www.mining.com/web/chinas-zijin-says-will-advance-disputed-giant-congo-lithium-project/

Rinehart buys 18% stake in Azure Minerals to block SQM takeover
Gina Rinehart is muscling her way into a second lithium deal.
Australia's richest woman Gina Rinehart's Hancock Prospecting said on Friday it had acquired 18% of Azure Minerals (ASX: AZS) in a strategic move aimed at deranging Chilean lithium giant SQM's (NYSE: SQM) A$1.63 billion ($1bn) bid for the junior.
The stake, just short of the 20% level that would require a mandatory takeover offer, may be enough to challenge the current bid.
"(Whether) this suggests Hancock just wants to partner or is gearing up for more, remains to be seen," Canaccord's Paul Howard told Reuters. "SQM may have expected this, hence it included the takeover in the deal as a fallback."
It comes less than two weeks after Rinehart thwarted Albemarle's (NYSE: ALB) attempt to buy Liontown Resources (ASX: LTR) by gradually building a 19.9% blocking stake in the Western Australia-based miner.
Shares in Azure, which is developing the Andover lithium and nickel-copper-cobalt project in the Pilbara, are trading more than 15 times higher than they were at the end of 2022. They jumped as much as 44% on Friday to A$3.52, their highest price since June 2008, to close at A$3.50.
The stock's valuation has been boosted by news in June of "exceptional" drilling results at Andover, which Hancock referred to on Friday as "encouraging". The iron ore miner, however, noted more work was required to estimate a mineral resource and evaluate its potential.
https://www.mining.com/rinehart-buys-18-in-azure-minerals-to-block-sqm-takeover/

Germany's Scholz says his country willing to invest in Nigerian gas, minerals
German Chancellor Olaf Scholz said on Sunday his country was willing to invest in gas and critical minerals in Nigeria, Africa's largest oil producer, as he started a two-nation visit to sub-Saharan Africa.
This is the third visit to the region by Scholz in two years and comes as conflicts elsewhere highlight the growing importance of an energy-rich region in which Berlin has traditionally had little involvement.
"There is a willingness to invest, especially in critical minerals," Scholz told reporters at a joint briefing with Nigerian President Bola Tinubu in the capital Abuja.
On gas, he welcomed Nigeria's efforts to expand its LNG capacity.
"If we are successful, if there is a better chance of exporting the produced gas … it is then the question for German companies to do their private business," said Scholz.
Tinubu said he had "a very deep discussion" on the issue of gas and encouraged German businesses to invest in pipelines in Nigeria.
Nigeria is also seeking to woo investors to its mining sector, which has long been underdeveloped, contributing less than 1% to the country's gross domestic product.
Without giving details, Scholz said there was also a willingness from German companies to build railways in Nigeria. That sector is currently dominated by Chinese companies, which have won contracts to expand rail lines in Africa's biggest economy.
https://www.mining.com/web/germanys-scholz-says-his-country-willing-to-invest-in-nigerian-gas-minerals/

Saudi mining sector's income jumps 63% in 2022
Private sector companies involved in the mining industry in Saudi Arabia recorded the highest operating revenues in the Gulf Kingdom's non-oil sector after they jumped by nearly 63 percent in 2022, according to official data.
The mining sector generated almost a third of the total operating revenues of the private sector in the world's largest oil exporter, following by non-oil industries, showed a government report published by the Saudi daily Alwatan.
The mining sector alone generated an operating income of nearly 1.4 trillion Saudi riyals ($373 billion) in 2022, an increase of 63 percent over 2021 when it stood at SAR909 billion ($242.2 billion), according to the report by the General Statistics Authority.
Total operating revenues of the Saudi private sector soared by around 24 percent to SAR5.07 trillion ($1.35 trillion) in 2022 from SAR4.08 trillion ($1.08 billion) in 2021, it showed.
https://www.zawya.com/en/projects/mining/saudi-mining-sectors-income-jumps-63-in-2022-l0m2gd8b

Ma'aden working to extract lithium from seawater
Saudi Arabia's flagship mining company Ma'aden is working to extract lithium from seawater, its chief executive Robert Wilt said on Wednesday, as competition for the rare metal rages between the US and China.
Wilt said Ma'aden, the Gulf's largest miner, is trying to stay above the fray and was "doing what's best for the kingdom".
"We are working on an initiative to extract lithium from seawater as well as some other things; I would say nothing is of scale, we are still at pilot phase currently," Wilt told Reuters in an interview.
Lithium is a key mineral used for electric car batteries, laptops and smartphones.
Ma'aden is 67% owned by the Public Investment Fund (PIF), the kingdom's sovereign wealth fund, and recently launched Manara Minerals, a joint venture with the PIF, to invest in mining assets abroad.
"We have de-risked our portfolio in terms of broadening exploration and working external to the kingdom to make sure we are resilient no matter what happens geopolitically," Wilt said.
He noted the kingdom is developing an automotive industry which will require electric vehicle battery materials and "we will probably not find that in time as the plants are being built, so we have to go outside and source it."
However the priority for Saudi Arabia has also been securing steel and iron ore from abroad as the kingdom rushes to construct ambitious mega projects. "Look outside the window, see the cranes, the giga projects that are going on here, there is immense appetite for steel," Wilt said.
The company was also planning to almost double production from its phosphate and gold mines, he said.
"We are in the final stages of commissioning Mansourah-Massarah, the largest gold mine in the kingdom, which will almost double our production of gold," he said.
Mansourah-Massarah is expected to contribute 250,000 ounces of gold per year.
Ma'aden has struggled as global prices for metals dipped, with its second quarter profit tumbling by more than 90%.
https://www.mining.com/web/maaden-working-to-extract-lithium-from-seawater/