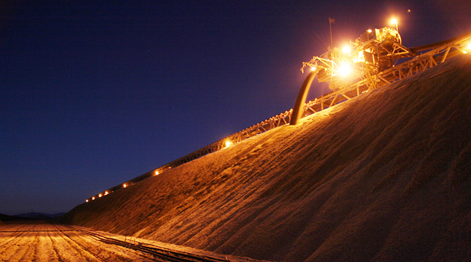 Newsletter – 20.11.2023

20/11/23 WEEKLY NEWSLETTER

HEADLINES
Antofagasta agrees lower 2024 copper charges with Chinese smelter

Western lithium, graphite miners boost prices for ESG-friendly supply

Ma'aden to tackle industry challenges at Future Minerals Forum 2024

Managem says water at cobalt mine safe, denies report on arsenic contamination

Illegal mining causing high mercury levels in Colombia's Cali River

Govt lures Saudi private sector to invest in Tanzania

Vale Canada, Sumitomo sign initial deal to sell 14% stake in Indonesian nickel miner
Antofagasta agrees lower 2024 copper charges with Chinese smelter
Chilean miner Antofagasta agreed treatment and refining charges (TC/RCs) of $80 a metric ton and 8 cents per pound with Chinese smelter Jinchuan Group for copper concentrate supply next year, three sources said on Saturday.
Zaldivar operation
The charges, paid by miners to smelters to process ore into refined metal, are 9% lower than the 2023 benchmark level, agreed around the same time last year, of $88 a ton and 8.8 cents per pound.
Antofagasta declined to comment and Jinchuan did not respond to a request for comment.
Global miners and China's largest smelters typically negotiate their copper concentrate contracts and settle TC/RCs at this time of year for the following year.
TC/RCs rise when more supply is available and smelters can demand better terms on feedstock, and fall when supply tightens.
Jinchuan is China's fourth largest copper producer. It is not clear if other smelters will agree to the same pricing in their negotiations with Antofagasta and other miners.
A group of top smelters was due to discuss the issue on Saturday, said a source, declining to be identified due to the sensitivity of the issue.
This year's copper charges, set by global miner Freeport-McMoRan Inc and Chinese smelters, were at a six-year high.
Participants in the market polled by Reuters prior to this week's negotiation
https://www.mining.com/web/antofagasta-agrees-lower-2024-copper-charges-with-chinese-smelter-at-80-per-ton-sources/

Western lithium, graphite miners boost prices for ESG-friendly supply
Western lithium and graphite miners have started charging the electric vehicle (EV) supply chain higher prices for their material, meeting demand for environmentally-friendly and consistent supply that is not linked to China.
In presentations and interviews at this week's Benchmark critical minerals conference in Los Angeles, industry executives, consultants and investors touted the premium pricing model as a way to help prod development of non-Chinese supply, a goal of Washington, Brussels and other Western governments.
The surcharges mirror a plan from the rare earths industry as Beijing exerts control of the critical minerals market and some EV backers worry that weaker environmental standards among some Chinese miners could tarnish the industry's clean energy credentials.
China refines more than 90% of the world's graphite and last month said it will require export permits for the metal, the largest component of an EV battery.
Lithium, the lightest metal, is used to make a battery's positively charged cathode and prized for its ability to store energy. China is the world's largest lithium processor.
"There's a premium to secure material from North America," said Patrice Boulanger of Nouveau Monde Graphite, which is building a Canadian mine and has a non-binding offtake with Panasonic Energy. "We have the highest (environmental, social and governance) standards."
https://www.mining.com/web/western-lithium-graphite-miners-boost-prices-for-esg-friendly-supply/

Ma'aden to tackle industry challenges at Future Minerals Forum 2024
The Future Minerals Forum has announced that Ma'aden will return as a founding partner to the event for the third consecutive year. Ma'aden, the largest multi-commodity natural resources company in the Middle East, will play a central role again in discussions shaping the global minerals sector during FMF 2024 in January.
This event will focus on creating resilient and responsible mineral value chains in the resource-rich mineral super region of Africa, Western and Central Asia. FMF 2024 will convene government leaders, mining executives, investors, and other stakeholders to drive partnership and growth contributing to a sustainable sector and strengthening global minerals supply chains.
Last year at FMF, Ma'aden made a series of significant announcements including a major joint venture with PIF, Manara Minerals, supporting global minerals supply chains that are critical to the energy transition. Ma'aden also announced milestone agreements with global mining leaders Ivanhoe Electric and Barrick Gold Corporation, helping to drive forward the development of the Kingdom's mining sector.
The forum plays a key role in supporting investment and partnerships in Saudi Arabia and globally.
Exciting new initiatives that will be discussed at FMF 2024 include increasing human resource capacity and talent in the region through centers of excellence; developing sustainability standards that meet the requirements of host countries and maintain trust with society; and creating a green metals hub within the super region by utilizing modern technologies and developing processing centers.
https://www.arabnews.com/node/2411671/corporate-news

Managem says water at cobalt mine safe, denies report on arsenic contamination
Moroccan mining company Managem said on Wednesday an audit of its water supplies showed no irregularities after a German newspaper reported that toxic arsenic had been found in water samples taken from mines in the country.
Managem's Bou Azzer mine supplies German automaker BMW with cobalt, widely used in electric car batteries. The company also plans to supply Renault in 2025.
BMW told Reuters on Sunday it was seeking clarity on the operations at the mine after the Sueddeutsche Zeitung said its reporters, in collaboration with broadcasters NDR and WDR, had found serious violations of environmental and labour protection standards at mines in Morocco, as well as excessive levels of arsenic in water samples.
The report also said that Managem was not complying with international standards for the protection of workers and taking action against critical trade unions.
In a statement, Managem said it was implementing the "highest standards in the industry in terms of quality, safety and respect for the environment".
"Since the opening of the mine, no arsenic-related occupational illnesses have been identified, nor any arsenic-related illnesses in the Bou Azzer mine area have been reported," the company said.
https://www.mining.com/web/managem-says-water-at-cobalt-mine-safe-denies-report-on-arsenic-contamination/

Illegal mining causing high mercury levels in Colombia's Cali River
The Attorney General's Office of Colombia issued a communiqué on Sunday alerting about high levels of mercury and lead in the Cali River, which supplies fresh water to Santiago de Cali, the capital of the western department of Valle del Cauca.
Illegal mining in the Farallones National Natural Park has been identified as the cause of the metal pollution, which was originally detected in the Felidia River, a tributary of the Cali River.
According to a study carried out by the Public Prosecutor's Office with the support of the Anti-Narcotics and Law Enforcement Affairs Section of the United States Embassy, toxic elements in the Felidia River have reached levels of 23 parts per million (ppm), exceeding the reference of the Canadian and WHO Regulations that establish a maximum limit of 0.1 to 0.17 mg/kg.
"Illicit activities represent a direct threat to the park's ecosystem and to the water quality of six of the seven rivers that supply the city, a situation that has been repeatedly denounced and alerted by the Attorney General's Office," the media statement reads. "Faced with these alarming results, the control entity has activated an action plan aimed at dealing with this environmental crisis in collaboration with the Attorney General's Office, the National Police, the Ministry of the Environment, the Ministry of Defense, the Valle del Cauca Government, Cali's Mayori and [public services provider] EMCALI."
The Attorney General pointed out that monitoring and heavy metal measurements were carried out in the Felidia River as part of a series of commitments agreed upon through the National Mercury Table, convened by Colombian authorities to deal with the environmental crisis caused by irregular gold extraction.
https://www.mining.com/illegal-mining-causing-high-mercury-levels-in-colombias-cali-river/

Govt lures Saudi private sector to invest in Tanzania
ZANZIBAR:THE government has encouraged the Saudi Arabia private sector to explore and utilise the investment opportunities available in both Zanzibar and Tanzania mainland.
The call was made at the Saudi-Tanzania roundtable meeting on the sidelines of the recent 'Saudi-African summit,' which was attended by President Samia Suluhu Hassan.
Tanzania Ambassador in Saudi Arabia, Dr Mohamed Abdallah Juma said the Minister for Livestock and Fisheries, Abdallah Ulega and Saudi Minister for Investment Eng Khalid bin Abdulaziz Al-Falih along with other high-level officials from both countries attended the sideline meeting held in Riyadh.
"The meeting explored ways to strengthen and increase investments by leading Saudi and Tanzania companies," the Ambassador Mohamed explained through telephone call.
He added that the meeting coordinated by his office also reviewed investment opportunities in the Kingdom of Saudi Arabia and Tanzania, and ways to enhance economic and investment ties, foster quality investments and enable the private sector to benefit from investment opportunities in both nations.
Dr Juma said "Aspects of investment partnership in various sectors including trade, investment, tourism, finance, energy, healthcare, food security, agriculture, animal husbandry, infrastructure, petrochemicals, mining, ICT, real estate, construction and logistics were also discussed."
The ambassador explained that 25 Saudi companies with representatives from development sectors of trade, investment, finance, energy, livestock, agriculture, communications, industry, energy and health sectors participated in the meeting.
https://dailynews.co.tz/govt-lures-saudi-private-sector-to-invest-in-tanzania/

Vale Canada, Sumitomo sign initial deal to sell 14% stake in Indonesian nickel miner
Mining company Vale Base Metals said its unit Vale Canada Ltd and Japan's Sumitomo Metal Mining Co. Ltd signed an initial agreement on Friday to sell a 14% stake in their Indonesian nickel mining unit to Indonesia's state miner.
Vale Canada and Sumitomo signed a heads of agreement to sell the shares to PT Mineral Industri Indonesia (MIND ID), the country's state mining holding company, Vale Base Metals said in a statement.
Share divestment is a condition required by Indonesia to extend Vale Indonesia's mining permit, which is currently due to end in 2025. Foreign investors are required to divest 51% of their stake to local buyers after a certain period of operation.
Upon completion, MIND ID will become the largest shareholder of Vale Indonesia with 34% of shares, up from 20%. Vale Canada and Sumitomo will hold 33.9% and 11.5% respectively, according to the statement, down from 43.79% and 15.03%.
Around 20% of Vale Indonesia's shares are publicly traded.
A "balanced" management structure will be set up to maintain operational stability at the Indonesian unit, the statement said.
"We look forward to working within the new shareholding structure with our partners to support the country's downstreaming ambitions and deliver strong economic value to our stakeholders and communities over the long run," said Deshnee Naidoo, chief executive of Vale Base Metals.
https://www.mining.com/web/vale-canada-sumitomo-metal-sign-initial-deal-to-sell-14-stake-in-indonesian-nickel-miner/